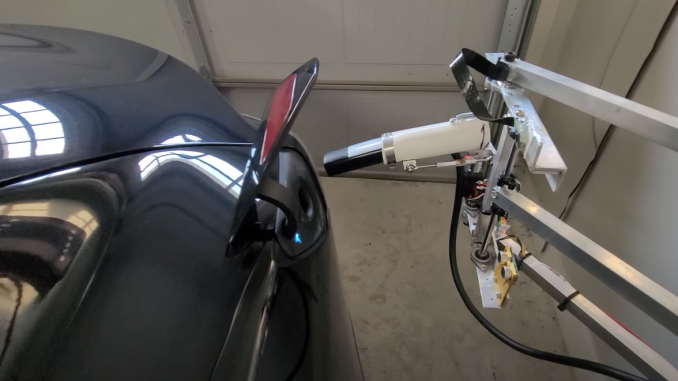 One Tesla Model 3 owner has taken matters into his own hands and created his very own snake charger in his garage.
If you're unfamiliar with the term snake charger, it refers to a prototype charging device Tesla created all the way back in 2015. The device was a "solid metal snake" that was able to find its way to a Tesla's charging port and plug itself in.
Since Tesla released this video in 2015, a production version has yet to see the light of day. Despite CEO Elon Musk saying last year the snake charger will eventually make it into production, one fan has decided not to wait and created his own DIY version in his garage.
The genius behind the creation is Reddit user u/pataforce8, who shared a video on how he created his Tesla automatic charger.
The brains of the device is a Raspberry Pi, which is connected to multiple devices, one of those being an ultrasonic distance sensor to make sure the charging arm doesn't hit the car. It is also connected to a camera that allows the system to find the vehicle's charge port.
While the system clearly works, it is a little slow to complete the process, but if all you need to do is get out of your car, it doesn't really matter if it takes 10 seconds or 5 minutes to plug itself in.
You can check out the full video below.