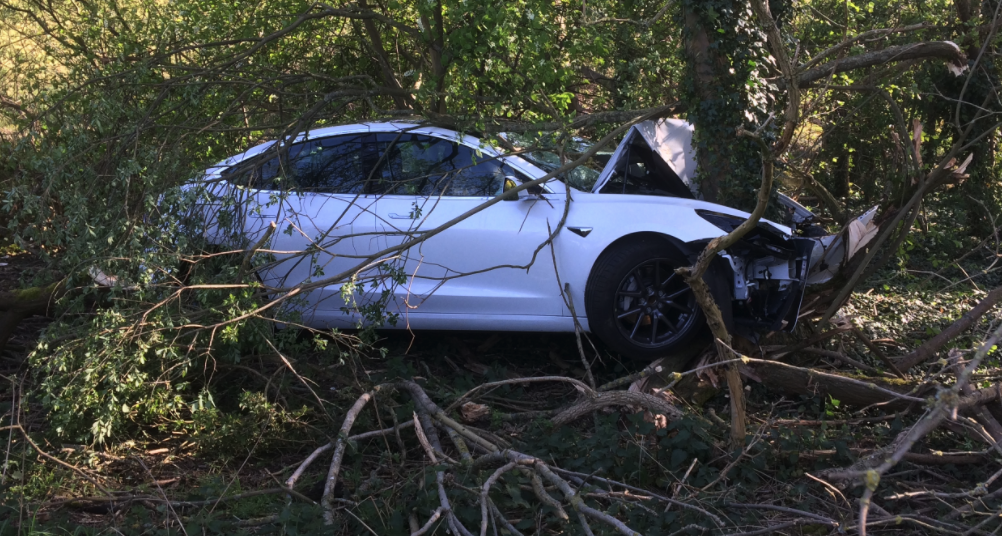 If you don't already know, Tesla vehicles are the safest vehicles on the road. That statement is backed up not only by statistics from Tesla, but also from independent third parties who have given Tesla vehicles the highest safety ratings and numerous awards.
That safety was on full display in a recent crash involving a the owner of this Tesla Model 3 in the Netherlands, who posted about the incident on Twitter.
Martin Grefte notes on the day of the accident, he wasn't paying full attention to the road. Before you think he was driving distracted by using his mobile device, Grefte says it was because he had just learned his sister-in-law had been admitted to the intensive care unit (ICU) after contracting COVID-19.
After using Autopilot while on the highway, Grefte took his exit, which deactivated Autopilot. At some point while taking the exit, he drove his Model 3 straight off the road and into a heavily wooded area.
The EV came to rest after striking a tree head-on, showing just how safe a Tesla vehicle is due to the lack of an internal combustion engine (ICE), and the resulting large crumple zone.
He was miraculously able to walk away from the accident, with the only injuries being some scratches as a result of a branch going through the front windshield.
Grefte notes the car was obviously totalled, but his experience only strengthened his belief that Tesla vehicles are the safest cars on the road. So much so, he went and bought a new one the next day.