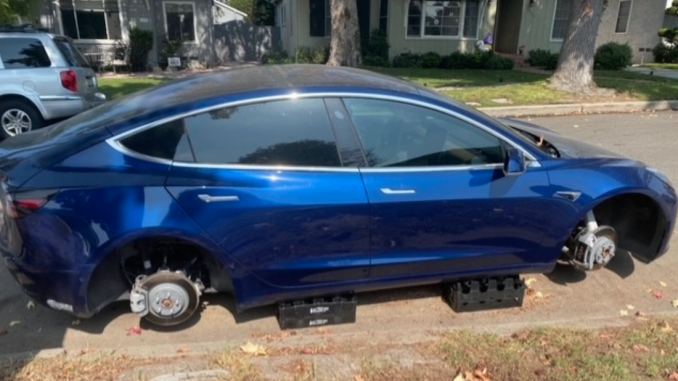 It appears Tesla rims and tires are a hot commodity in the Los Angeles area after the LAPD officially warned Tesla owners after a rash of thefts in the area.
Save with big discounts at your favourite Tesla accessories stores, like 10% off at Tesmanian, TesBros and Nikola Pro, plus many more. Coupon codes at DriveTeslaCanada.ca/deals.
The warning, which was posted to the LAPD Pacific Twitter account, shows a picture of a blue Tesla Model 3 without wheels, propped up on what appear to be drink crates.
Tesla owners in Palms and Mar Vista Area, be aware #Tesla Rims and Tires are a hot commodity in the black market.
** DO ** Activate the #sentrymode and plug a flash drive to record events 🎥🎥🎥 https://t.co/JR7f465BQ2
** Whenever possible, park in well lit public areas. pic.twitter.com/pexeAnMWH0

— LAPD Pacific (@LAPDPacific) September 30, 2020
Along with the warning, the LAPD also recommended to owners to activate Sentry Mode to hopefully catch the thieves on video.
Get 10% off at Tesloid.ca or Tesloid.com with coupon code DTC10 at checkout. Quality Tesla accessories with FREE shipping across Canada and the US.
According to the LAPD, the thefts have mainly taken place in the Palms and Mar Vista areas. We were also able to find more evidence of the thefts with this photo taken in nearby Venice Beach, showing another Model 3 on what appear to be the same drink crates as the ones from the LAPD picture.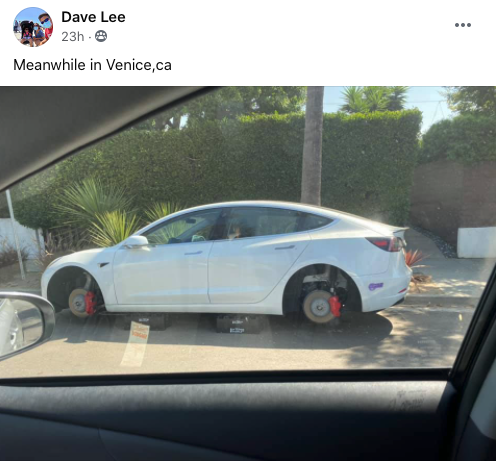 There has definitely been an uptick in the number of non-Tesla vehicles sporting Tesla wheels lately. Specifically the standard 18″ Aero wheels seem to be a popular choice, which pictures surfacing of them appearing on a Honda Civic, Acura TL, Ford Taurus, and even on another electric vehicle, a Chevy Bolt.
— Drive Tesla 🇨🇦 (@DriveTeslaca) September 25, 2020
The Tesla Aero wheels really seem to be catching on pic.twitter.com/zt6lXI9wTb

— Drive Tesla 🇨🇦 (@DriveTeslaca) September 30, 2020
👍👎

Wait, what? – Ford Taurus edition pic.twitter.com/FdHsztQK3P

— Drive Tesla 🇨🇦 (@DriveTeslaca) September 17, 2020
Wait, what?

— Drive Tesla 🇨🇦 (@DriveTeslaca) September 3, 2020