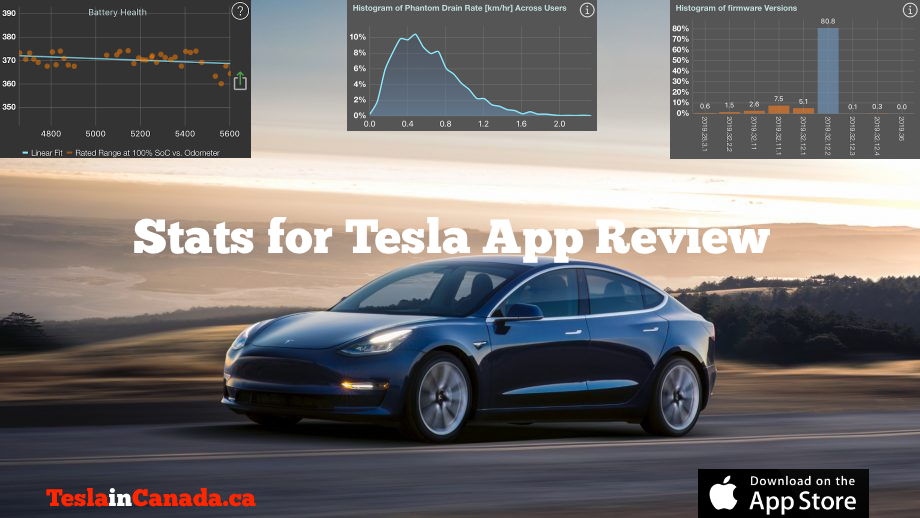 There are a number of third party iOs apps for Tesla available in the App Store. Some are free, others aren't. Many of the apps you may come across simply duplicate the features and functionality of the official Tesla app, and offer no real value. One app that stands out from the crowd, both for it's price and its functionality is Stats for Tesla, which sells for $19.99 on Apple's App Store (not available for Android).
Now there are probably some of you out there reading this that say they would never pay that much for a Tesla app, but this one comes packed with so many features and so much information (maybe sometimes even too much at first), that it really is worth its price tag. One of the best features is that it has a companion Apple Watch app, allowing you to control your Tesla from your wrist. More on that later.
Setting Up
For starters, it is super easy to setup. Simply download the app, enter in your information for your Tesla account, and you're ready to go. The app, according to the developers, is optimized to prevent it from adding to the "phantom drain" you might experience on your Tesla battery.
Once set up, there is a wealth of information. The information is separated into 5 tabs, each with its own set of data and information.
Charging Tab
The first tab in the app is for charging information. On this tab, you can see your state of charge, and also set the limit for how high you want your battery to charge. I find the Tesla app can be a little finicky when selecting a charge limit. I might think I set it to 85%, and it may look that way, but it may turn out that I set it to 88% instead. Stats App works in 5% increments, so you know you're always getting the right number.
Below that is a calculation of you average phantom drain rate in km/h. This shows you, on average, how many kilometers you battery has lost per hour while your Tesla sits stationary, not plugged in. You also get displays of your Estimated Range and Rated Range. Below that, you can also see your Driving Efficiency in percent, and your L/100km.
Bar Chart Tab
Moving over to the next tab gives you an almost overwhelming, but extremely useful amount of information about your personal driving habits and how it affects your range and efficiency, as well as information on cost and money saved.
The first bar graph displays how much it has cost you to operate your Tesla. This information is based on the number of kilometers you have driven, and the information you have entered in the Settings about your local gas and utility prices. You can view the information by day, week, or month.
One part of this tab that will be of interest to most, if not all Tesla owners is the Battery Health section. This graph shows the trend line of full-battery rated range versus your odometer value. As the battery ages, a slight decrease in rated range is normal and expected. By using this graph, you can monitor any battery degradation happening in your battery pack.
There's also information available on driving efficiency, the number of kilometers you have driven (again daily, weekly, or monthly), charging information, and more detailed information on your phantom drain that appears on the Charging Tab.
Line Graph Tab
The next tab displays graph data for all users of the Tesla Stats iOS app, broken down by Model S, Model X, and Model 3. The usefulness of this tab is that it can show you how your Tesla is performing against a large data set from other Tesla owners. You can also see what percentage of app users are on each version of firmware. This is a good way of tracking the roll out of a new software update release from Tesla, and can give you an idea of when you might expect to receive it.
Controls Tab
The controls tab is next, and provides all the basic controls found in the official Tesla app, but all in one location. From here, you can see the current inside and outside temperature, enable any of the climate controls, and open the frunk, trunk or charge port. You can also honk the horn, start the car, unlock/lock the car, and enable Sentry Mode. It also provides the location of your Tesla on a map, which you can share via all the traditional sharing options on iPhone.
Settings Tab
In a lot of apps, you can almost ignore the settings as they don't impact the usability of the app itself. Not the case with Stats, as vital information needs to be entered here in order to get the full experience and wealth of data available from the app.
Smart Features
In this section of the settings you can access some really powerful features of the app that allow you to set set schedules for heating/cooling, battery prep, Sentry, and charging. The most important ones, especially for Canadians in winter, are Smart Battery Prep and Smart Charging. Although these features might become less useful as Tesla is set to introduce smart charging in one of the upcoming software updates.
Using these schedules, you can set the charging to end at certain times on certain days (or only once), and also set the charge limit so that charging starts again and your battery is warmed up when you're ready to leave for the day. This would be extremely helpful in the colder parts of Canada, especially if you don't have a garage and have to park outside (see Winter Driving Tips for Canadian Tesla Owners)
You can also set up Siri shortcuts, so that when you say "Hey Siri", it will do the action you set to the specified command. For example, you could set it up for "Hey Siri, open the trunk", or "Hey Siri, activate Sentry Mode". When used with your Apple Watch, you really feel like you're in a futuristic sci-fi movie when you're controlling your vehicle from your wrist.
NFC Tags and automation
One of the more recent applications of StatsApp is to use it along with NFC tags, so that you can tap your phone on or near your vehicle to perform certain actions. For example, you could place an NFC tag in your charge port door, and then set up the StatsApp to open the charge port door when your phone is tapped. You can watch this Youtube video from Tesla Raj for more details on how to do this. NFC tags are relatively cheap, so this can be an inexpensive way to automate your Tesla.
Final Thoughts
Overall, Stats is a great app that definitely gets the "Tesla in Canada" recommendation. You might think the price tag is a bit steep, but as you can see above, there are a TON of useful features and statistics so you can get the most out of driving your Tesla. There are other options out there that offer similar functionality, but those come at an even steeper price because of their monthly subscription option. The developer is constantly updating the app with bug fixes and new features. They are also really responsive on Twitter if you have questions or need help with any aspect of the app.