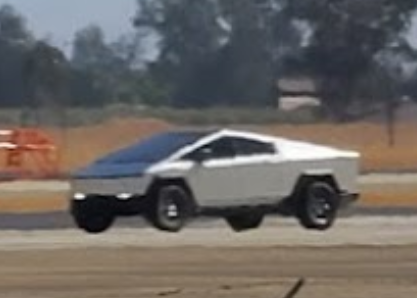 Earlier today Drive Tesla reported on the first sighting of a new Cybertruck design. A short video shared with us showed off new side mirrors and four wheel steering, the first time either feature has been seen on the Cybertruck.
The video was taken from a distance meaning the quality wasn't the best. Thankfully some photos of the new Cybertruck prototype have emerged giving us a clearer look at the new design.
The photos was taken at Castle Airport last week, the same location where the video was taken and likely at around the same time. Although these are also taken at a distance, they are definitely higher quality and give us a better view of the new side mirrors (click to enlarge).
Here is a zoomed in view of some of the images, which appear to show the Cybertruck without the aero caps seen on the original prototype. They appear to be a similar design seen backstage on the night of the reveal.
Since our report this morning, Elon Musk has confirmed on Twitter the Cybertruck will come with side mirrors. He added that they will be easily removable by owners.
They're required by law, but designed to be easy to remove by owners

— Elon Musk (@elonmusk) October 19, 2021
And if you still wondering why the photos and video aren't HD 4K quality, check out the tweet below.
https://twitter.com/DriveTeslaca/status/1450586726313828354