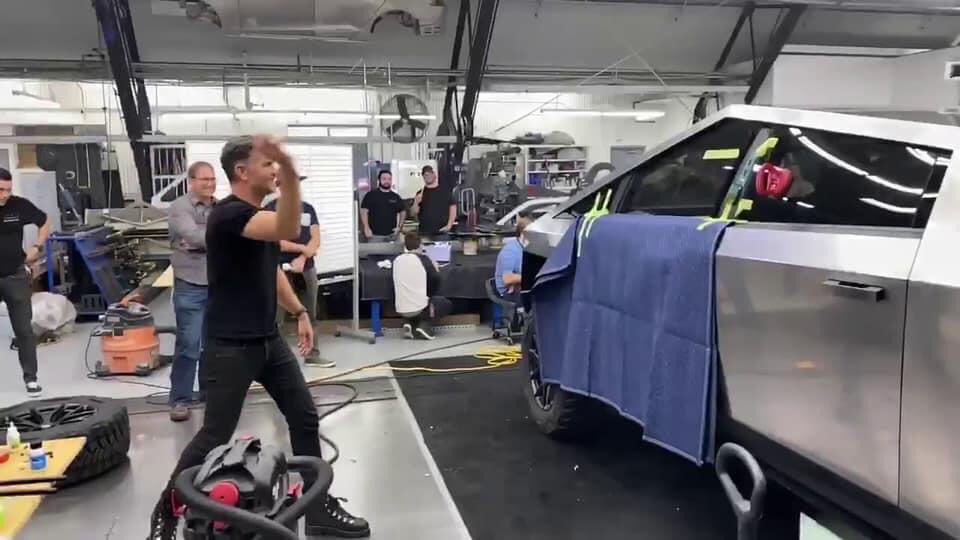 When Tesla unveiled the radically designed Cybertruck to the world in November 2019, and in every picture and video of it since the event, has shown it with the rugged black aero covers on the wheel.
Now thanks to some keen eyed spotting, the wheels under those aero covers have been revealed, and they've been in front of us the entire time.
During the unveiling, the infamous broken window incident occurred. A few days later, Tesla CEO Elon Musk posted a video to Twitter showing Tesla's chief designer Franz von Holzhausen throwing those same metal balls at the Cybertruck window, without it breaking.
Franz throws steel ball at Cybertruck window right before launch. Guess we have some improvements to make before production haha. pic.twitter.com/eB0o4tlPoz

— Elon Musk (@elonmusk) November 23, 2019
It turns out that by posting that video, Musk also revealed the naked Cybertruck wheels. While we don't get a perfect view of them, we can see the front wheel which is partially blocked by the blanket, as well as a spare wheel on the floor behind Franz in the background. (click to enlarge images)
We can see from these images that they appear to be multi-spoke rims with a matte black finish, and do not resemble any existing Tesla wheel. We don't know for sure that these are aero covers, they could simply be hubcaps. But given the attention to detail from Tesla, one can only assume they have a specific design function, likely to increase range.
Next week we will hopefully get a good up-close look at the Cybertruck, as Jay Leno's Garage airs the episode where Leno and Musk take the Cybertruck out for a spin on LA roads, as well as visit the Boring Company Tunnel.
h/t Kyle Scott Wolfe on Facebook