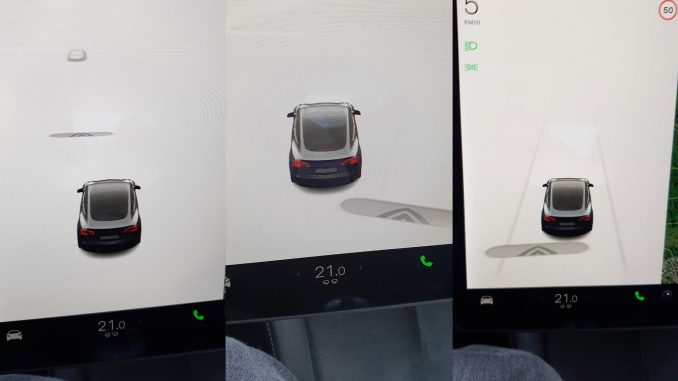 Tesla last week released a new vehicle software version, 2021.44.30.12. The release notes contained no new features or improvements, but owners are reporting Tesla did add a new feature that probably should have been included.
According to Tesla enthusiast @tesla_adri, speed bumps visualizations have been added with this release.
Video and photos were shared showing the visualization, something which has until now been limited to cars in the Full Self-Driving (FSD) Beta test group.
As noted by @tesla_adri, he has yet to test if Autopilot or Traffic-Aware Cruise Control (TACC) reacts and slows down for the speed bumps, just like cars with FSD Beta do. (Update: subsequent testing showed it did not react to the speed bumps).
Undocumented Change in 2021.44.30.12:

Speedbumps are now being rendered on non FSD beta cars.
Have to test if it's just visualization or if TACC/AP are actually reacting to them.@teslascope @DriveTeslaca @NotATeslaApp @TeslaUpdateInfo @WholeMarsBlog @greentheonly @elonmusk pic.twitter.com/3jPayiDOGj

— Tesla_Adri (@tesla_adri) February 7, 2022
UPDATE Feb 14 10:42am PST: Tesla appears to have removed the speed bump visualizations in 2021.44.30.13 or newer.
Tesla stats and update tracker @Teslascope later confirmed through a Tesla employee that this feature is only available for cars with HW3.0 and that have purchased the FSD suite of features.
We were just messaged by two individuals, one from China, another who is a service employee who shared that these visualizations will only appear if the vehicle has HW3 and if FSD has been purchased for the vehicle (even if the beta is not available yet in the region). 👍

— Teslascope (@teslascope) February 7, 2022
The addition of the speed bump visualizations is hopefully the first step in Tesla releasing all the FSD Beta visualizations.
Elon Musk said in September last year non-beta testers could get the visualizations as early as October, but that feature has yet to be released to the fleet of FSD owners.
Full Self-Driving (FSD) Beta visualizations "hopefully" coming to non-beta testers next month