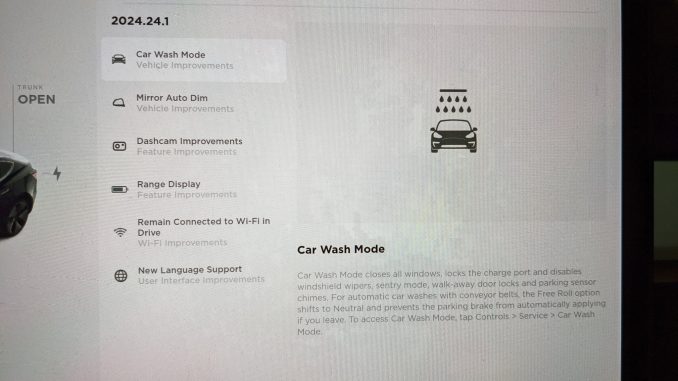 A little over a week after 2021.24 was pushed to Early Access Program (EAP) owners, Tesla has deployed the public release today, 2021.24.1. Although it looks like the programmers didn't double check before hitting the deploy button as it was labelled as 2024.24.1.
According to the EAP release notes from last month this update finally included new features like Disney+, Car Wash Mode, and several more. Now it appears Disney+ was removed from the release notes, but all the other features have made it in to this release.
UPDATE: Disney+ has been included in US cars, but is not included in Canada.
You can read more details about these features here.
Even though Disney+ was removed, several more undocumented changes have also been added based on an early review of the update by hacker
@greentheonly
.These include:
Active Noise Cancellation (Model S/X)
Improved Lane Guidance including voice prompts for "speed/radar locations, traffic light cameras and bus lane detection"

UPDATE: This is only for owners in China which uses Baidu maps

Alternate Route Selection
Autopark on long press of a button
This is a developing story, stay tuned for updates…
Looks like that 2024.24.1 release is lit (not a typo).
active noise cancellation (on refresh s/x).
improved lane guidance/ nav including voice prompts for "speed/radar locations, trafic light cameras and bus lane detection".
also alt route selection (yay!)
needs new maps pic.twitter.com/yZLDBxSHRN

— green (@greentheonly) August 9, 2021
mirror autodim setting, range display/percentage switch with a tap, wifi stay on in drive option just as leaked before by somebody.

Probably a bunch more changes I really need to dig into to find pic.twitter.com/0XZWeVYMsG

— green (@greentheonly) August 9, 2021