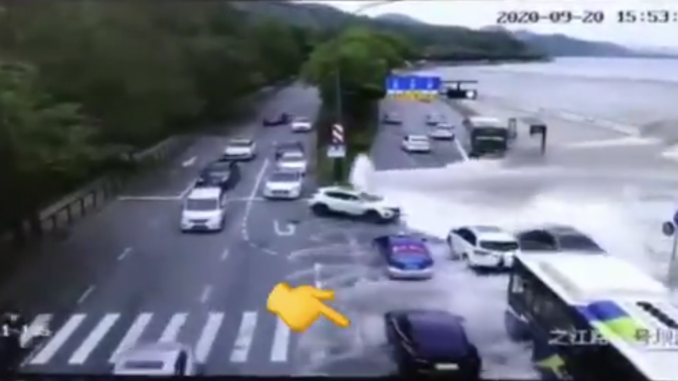 Tesla vehicles are well known for their impressive safety record. CEO Elon Musk has even said the Model S "floats well enough to turn into a boat", although it is not recommended.
We *def* don't recommended this, but Model S floats well enough to turn it into a boat for short periods of time. Thrust via wheel rotation.

— Elon Musk (@elonmusk) June 19, 2016
We've seen Tesla owners challenge Musk on this statement by successfully driving through flooded roadways with ease, much to the surprise of the reporters who caught it on video.
In what may be a first for Tesla, we now know how a Model S handles being washed away by a surprise tidal wave.
The incident, which occurred on September 20, 2020 in Hangzhou, China was caught on a nearby security camera, as well as the vehicle's TeslaCam.
While driving along a busy roadway just meters from shore, we can see the tidal wave appear from nowhere to the right of Model S. The wave takes out well over 10 vehicles, easily washing them to the opposite side of the road, with water at one point completely flowing over the roof of the electric sedan.
As the other vehicles lay stranded on the road, the Tesla is quickly and easily able to drive away from the scene, seemingly unscathed.
Check out the shocking videos below, including the one captured inside the Model S by the TeslaCam.
Dashcam video shows another view of the tidal wave impact. pic.twitter.com/6JumKZ5VRU

— Ray4️⃣Tesla⚡️🚘☀️🔋 (@ray4tesla) September 21, 2020