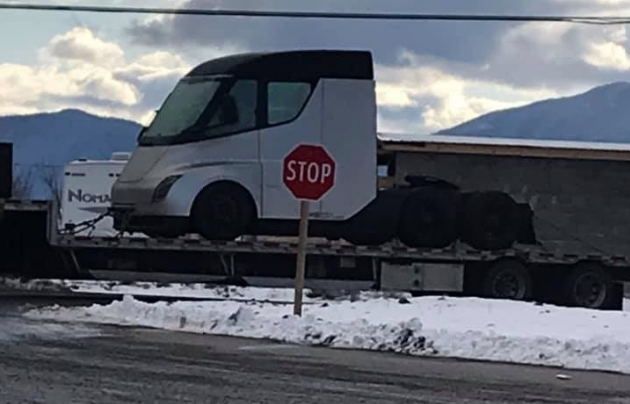 Ashcroft is a small community of about 1,500 people in the interior of British Columbia about a 1.5 hour drive west of Kamloops. It's not exactly the place where you'd expect to see the Tesla Semi, but a keen-eyed fan spotted the futuristic truck there this week.
There had been rumours the Tesla Semi was conducting testing in B.C., and this sighting all but confirms that it has been testing on BC roads. The Tesla fan who spotted the truck, Phil S, was definitely surprised to see the truck being hauled through the small town on the back of a flatbed tractor-trailer.
The Semi, which was first unveiled in 2017, has been faced with delays as Tesla focused their efforts and resources on ramping up production of the popular Model 3 sedan. Another factor which has caused the delays is a sufficient supply of battery cells, as the Semi needs a much bigger battery than a traditional passenger EV.
Tesla CEO Elon Musk recently announced during the Q4 earnings call the Tesla Semi would be entering production in limited quantities by the end of this year.