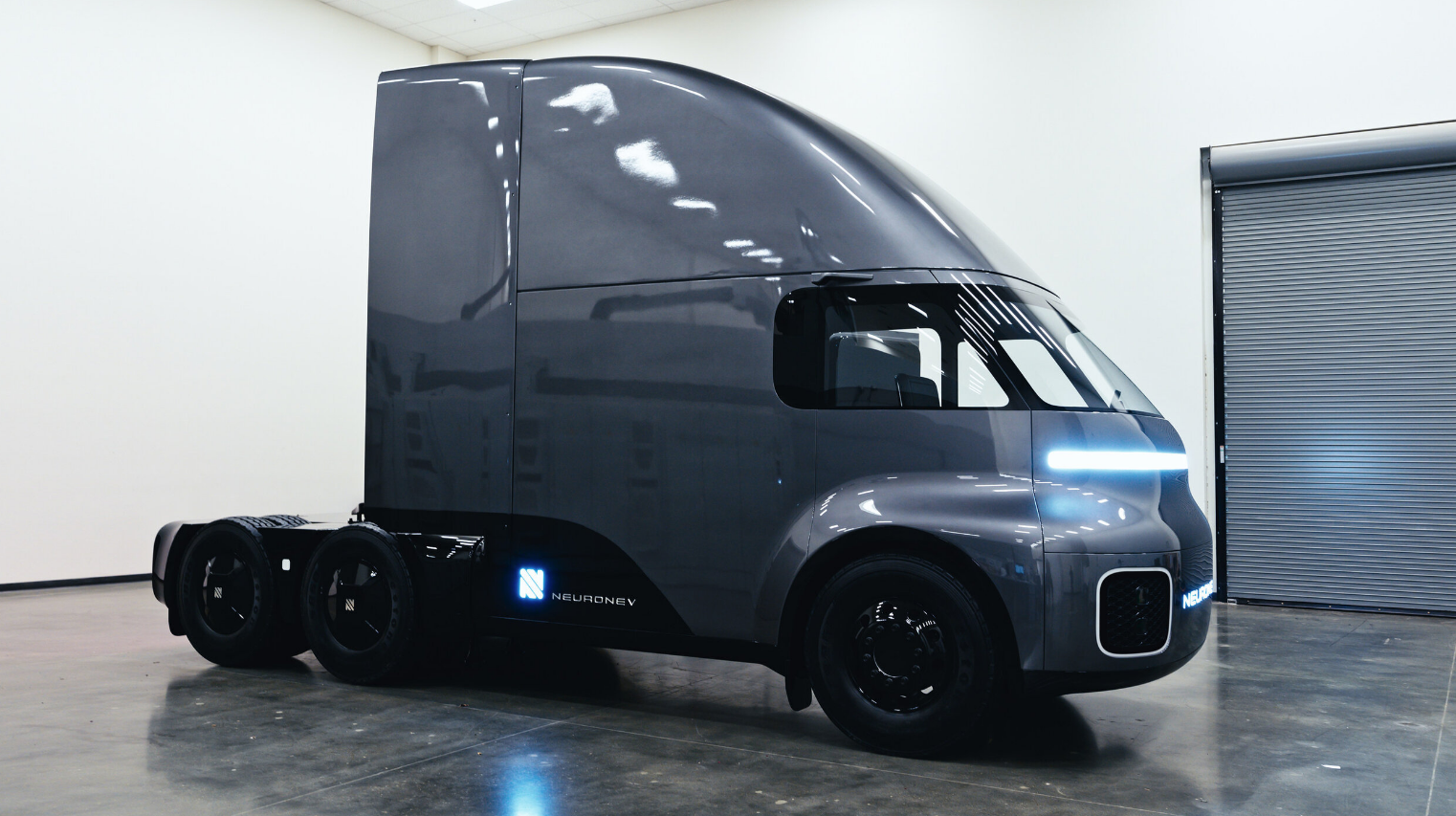 Tesla first revealed plans for their Semi truck in their 2016 Master Plan. It was then unveiled in November 2017 at a press conference. Then in June 2019, Tesla announced the Semi would go into production by the end of 2020, after undergoing testing with real-world cargo and hauling battery packs.
Now a California-based company is looking to take on Tesla, with the announcement of their "Neuron EV TORQ" semi truck. Neuron EV bills themselves as the the world's first electric utility vehicle company, and describes their Semi as a truck that will meet "the needs and expectations of a traditional semi-truck but without the harmful effects of a fossil fuel engine because of Neuron's battery electric propulsion system."
Neuron shared several pictures and a video of the truck, and it appears to borrow many design cues from Tesla (but how creative can you be when it comes to a Semi). The cab of the two trucks look very similar with their sleek, aerodynamic design. Both also feature a central driver's seat.
The rear sleeping area, seen in the pictures below, features a surround sound entertainment system, internet connectivity and a plush bed. They also claim their Semi is built to handle autonomous driving, but do not detail how they are going to build an autonomous driving system, or when it might become available.

From Neuron EV:
The TORQ is built on Neuron's scalable chassis with interchangeable body components that easily attach and detach, enabling it to adjust functionality and expand cargo capacity.

The truck's functional architecture also features an aerodynamic profile that has an integrated sleeper cabin, with a smooth and robust shell for silent operation.

Other features include a center driver's seat, a "360° position view through wireless cameras that feed data into the driver's screen," and "a modern first-class cabin." Neruon EV says that the truck was designed to provide drivers with "optimized handling and an engaging driving experience.
Neuron has yet to announce any details about when production may begin, or how much the Semi will cost. Tesla has so far announced the expected price for their Semi will be $150,000USD or $180,000USD for the 580km and 800km range versions respectively.