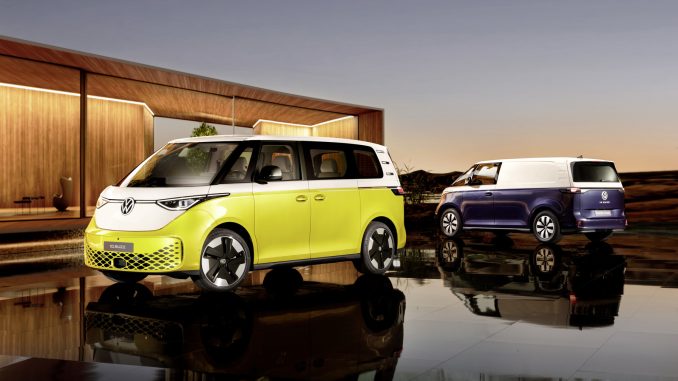 Volkswagen has officially unveiled the electric successor to their iconic Microbus – the ID. Buzz.
During a livestream event this morning (you can watch it here), VW revealed the design of the "near-production concept cars" and provided some more information about the specs of the electric van, but failed to provide an answer to two of the most pressing questions – the vehicle's range and how much it will cost.
VW showed off two short wheelbase versions – the ID. Buzz and ID. Buzz Cargo, both of which will launch in Europe later this fall.
Both variants will feature a 82kWh battery (77kWh net) in a rear-wheel drive configuration powering a 150kW electric motor.
That will be enough for 201 horsepower and 229 lb-ft of instant electric torque. Acceleration stats weren't provided but the automaker did say the ID. Buzz has an electronically limited top speed of 90mph (144km/h).
VW says more battery versions with various power output levels are expected to be unveiled next year.
Plugging in the ID. Buzz will give you peak charging speeds of 170kW, which can charge the battery from 5 to 80 per cent in 30 minutes. Plugging in at home will take about 8 hours using the 11kW onboard charger.
Pre-orders for both variants of the ID. Buzz will begin in May, with the vehicles entering production in the first half of 2022. The first deliveries are expected to take place in the third quarter.
Fans in North America will have to wait considerably longer, as only the long wheelbase version will be available in Canada and the United States.
That version is not expected to debut until some time in 2023, and sales are only slated to begin in 2024.