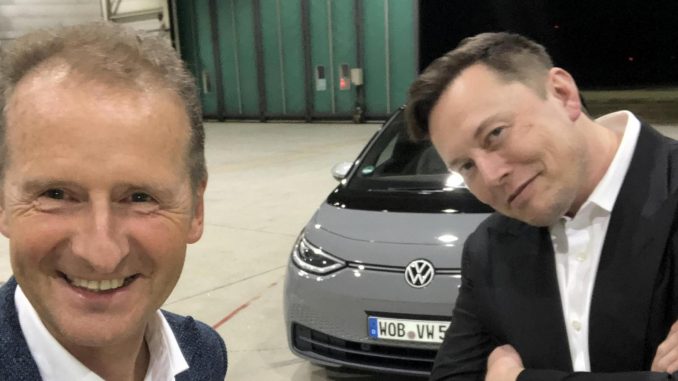 Volkswagen Group CEO Herbert Diess has expressed several times that he hopes to be able to overtake Tesla and become the electric vehicle (EV) sales leader by 2025. Diess has also said he expects it to be a "tight race," but a recent report suggests his estimate could be conservative.
According to Bloomberg Intelligence, VW should be able to able to take the crown from Tesla in 2024, one year earlier than Diess' best expectations.
The report says that thanks to Giga Texas and Giga Berlin ramping production over the next year, Tesla will be able to retain its EV sales lead through 2023, estimating they will sell just under 1.5 million EVs in 2022 and just under 2 million in 2023.
The story then changes in 2024. Propelled by the addition of 16 new electric models, the report predicts VW Group will leapfrog Tesla in 2024, and just hold on to that lead in 2025.
VW and Tesla will be in a league of their according to the report, with the next closest competitor, China's BYD about 1 million units behind.
Others like Stellantis, Mercedes-Benz, Ford, and General Motors are expected to just cross 1 million annual EV sales by 2025. Toyota, with its reluctance to embrace the EV revolution will barely reach 500,000 EV sales by 2025.
Even with the strong sales by Tesla and VW Group, the report also predicts that EV adoption won't be as fast as many expect, suggesting battery electric vehicles will only account for 15% of worldwide vehicle sales in 2025, up from 6% in 2021.
China will continue to be the leading market, with electric vehicles accounting for 25% of sales in 2025, up from 11% in 2021. In 2025, electric vehicles are expected to account for almost 20% of all vehicles sold in Europe, up from 9% in 2021.
You can read the full report here.
CEO Herbert Diess reiterates VWs ambitions to overtake Tesla in EV sales by 2025
Source: Bloomberg via CarScoops