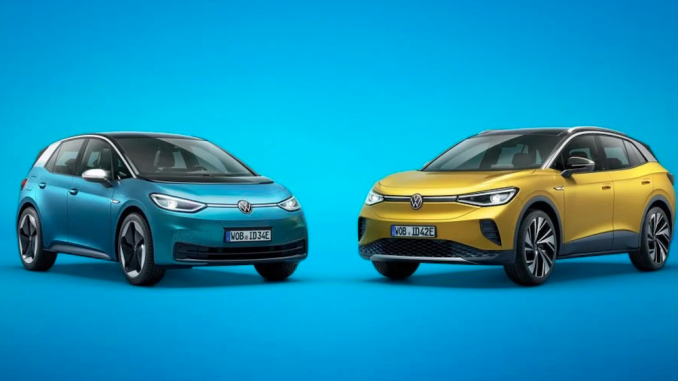 For the upcoming 2022 model year, Volkswagen has made some changes to the ID.3 and ID.4 electric vehicles (EVs) in Europe. The model year switch has also brought a lower price to the ID.3 and a number of changes to the ordering process that provides customer more flexibility when configuring both EVs.
The biggest update for customers is that both EVs used to come preconfigured at the various trim levels. Previously only the colour of the car and the wheels were customizable, but now customers can add option packages on top of the standard options available at each trim level.
One of the optional packages is the Infotainment Package Plus (£2,200/$3,790 CAD), which adds the Augmented Reality Head-up Display and additional speakers that were previously only available in the Max and Tour versions. Other packages include the Sport Package, Design Package, Assistance Package, and more.
Pricing has also been changed, allowing two more variants of the ID.3 to qualify for the UK Government's Plug-in Vehicle Grant. The ID.3 Family Pro and Family Pro Performance are now £2,500 cheaper, putting them below the £35,000 threshold for the grant.
Andrew Savvas, Director of Volkswagen UK said the price changes are in response to the competitive EV marketplace, presumably referencing the fact the Tesla Model 3 was the best-selling car in the UK in June despite its higher price.
"The ID.3 is our 'Electric People's Car' and continues to receive acclaim and awards from the motoring press. It's one of the UK's best-selling BEVs in the segment according to the SMMT (Society of Motor Manufacturers and Traders). The aim of the price revision is to maintain the car's long-term competitiveness in the fast-moving sector.
It is unknown at this time if the configuration changes will make their way to North America. We have reached out to Volkswagen Canada but did not receive a response by the time of publication. We will update this story when we know more.