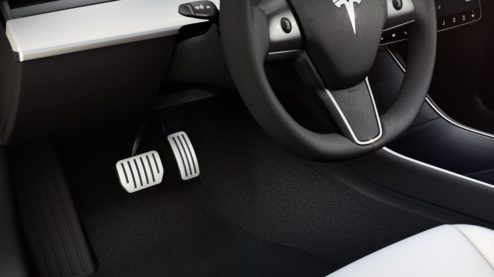 An Early Access Chinese Model 3 owner has posted details on Reddit of a couple of new features coming soon to all Tesla vehicles by way of an OTA software update.
The first is that regenerative braking will now work all the way down to 0km/h, giving Tesla owners true one pedal driving. This will also extend the life of your brake pads even more than the current estimate of 200,000km+. It appears that this new feature will work in conjunction with the "Hold" feature so that when the vehicle does come to a complete stop, "Hold" will be automatically engaged. It will be interesting to see how this feature works when the battery is cold and full regenerative braking is not available, or severely limited. Tesla CEO Elon Musk did mention on yesterday's Q3 earnings call that the regenerative braking would be improved in a coming software update, and this is likely what he was referring to.
The second is a much asked for feature request, the ability to set a charging stop time. If you usually leave your house at 8.30am, the only way to charge your battery just before leaving was to start charging and see how long it would take to get to your desired state of charge (SOC). If it was 3 hours, you would set it to start at around 5.30am. Now this new update will allow you set a charge stop time of 8.30am. Much easier to manage, and will give you a warm battery and more regenerative braking when leaving in the colder winter months (more winter driving tips here). You will also still be able to set a charging start time, as seen in the picture below.
In addition to the charge stop time, you will also be able to set a cabin temperature for your departure time, so that the cabin is at your desired temperature before you depart.
Another new feature is Automatic Navigation, which will start a route to your likely destination once you enter the vehicle. It will work based on synced calendar events, and also your stored work and home address for your weekday trips to and from the office.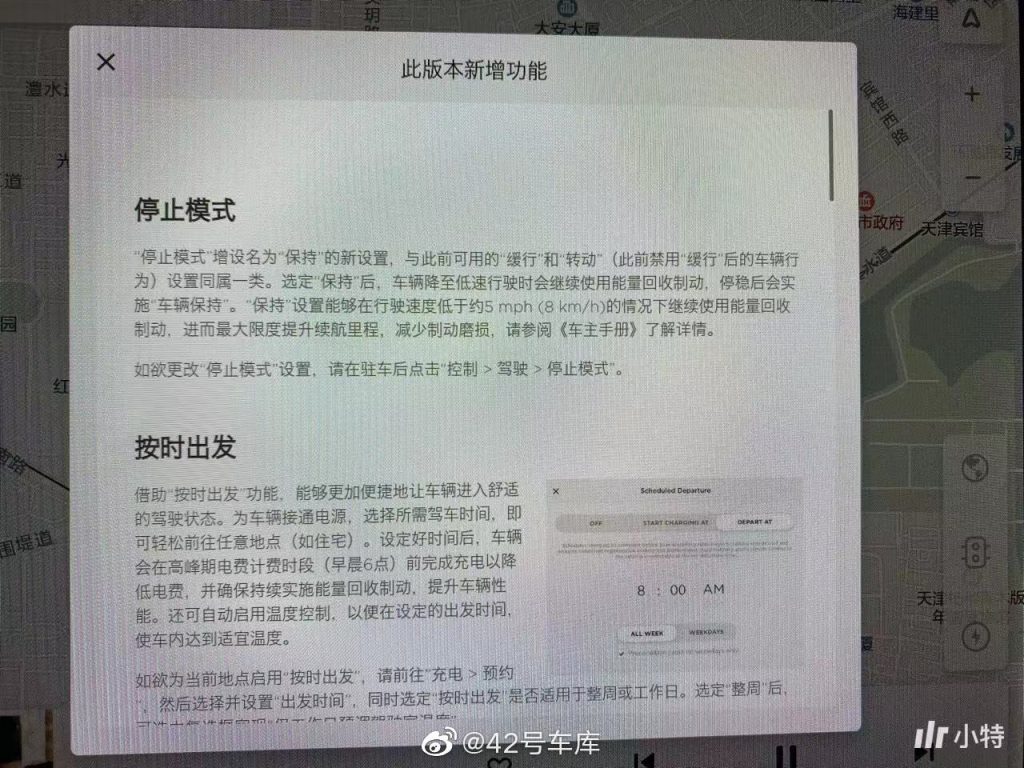 Google translation of release notes:
This release adds a new stop mode "Stop Mode" to add a new setting called "Keep", which is the same as the previously available "Slow" and Rotate (previously disabled slow vehicle behavior) settings. When "Hold" is selected, the vehicle will continue to use the energy recovery brake when it is lowered to low speed. After the vehicle stops, the vehicle will be maintained. "Keep" setting can be driven at a speed lower than about 5 mph (8 km / h). Continue to use the energy recovery brake to maximize the cruising range and reduce brake wear. Please refer to the Owner's Manual for details. To change the stop mode "Settings, please click Control > Drive > Stop Mode after parking.
The "Start on Time" function makes it easier to get the vehicle into a comfortable driving state. When you turn on the power and choose the driving time, you can easily go to any location (such as a house). After setting the time, the vehicle Charging will be completed before the peak electricity billing period (6 in the morning) to reduce electricity bills and ensure continuous implementation of energy recovery braking to improve vehicle performance. Temperature control can also be automatically activated to allow the vehicle to reach the set time Appropriate temperature. If you want to enable "Start on time, please go to charge > Appointment and then select and set the departure time" for the current location, and select whether "Start on time" is applicable to the whole week or weekday. After selecting the whole week,