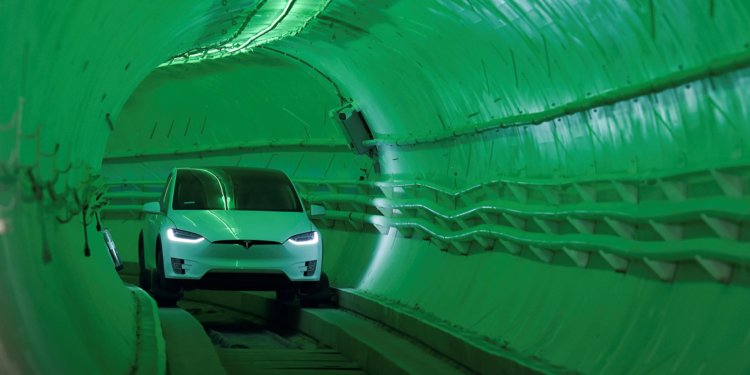 One of Tesla CEO Elon Musk's lesser known (to some extent) companies, The Boring Company, hopes to alleviate traffic congestion by boring tunnels underground major cities. The first public project for the company in Las Vegas is now nearing the halfway point of construction.
Save with big discounts at your favourite Tesla accessories stores, like 10% off at Tesmanian, TesBros and Nikola Pro, plus many more. Coupon codes at DriveTeslaCanada.ca/deals.
Construction began on November 15, 2019, and in the two months since over 2,100 feet (0.6km) of tunnel have been bored, the equivalent of almost six football fields according to the Las Vegas Convention and Visitors Authority (LVCVA).
The project, which will cost an estimated $52.5 billion, will connect popular spots of the 200-acre Las Vegas Convention Center site with two tunnels, each approximately 0.8 miles (1.3km) in length.
It is expected that someone using the tunnel in their Tesla vehicle will complete the trip in about 1 minute. It currently takes about 30 minutes to walk the same distance (via Fox5).
Along with already completing a test tunnel in Hawthorne, California, The Boring Company has plans for 3 other projects, including:
Get 10% off at Tesloid.ca or Tesloid.com with coupon code DTC10 at checkout. Quality Tesla accessories with FREE shipping across Canada and the US.
East Coast Loop – Washington D.C. to Baltimore
The Chicago Express Loop
Dugout Loop – Los Angeles, CA
The LVCVA recently released these photos showing the progress of the tunnel thus far.
Images via Mark Damon/Las Vegas News Bureau