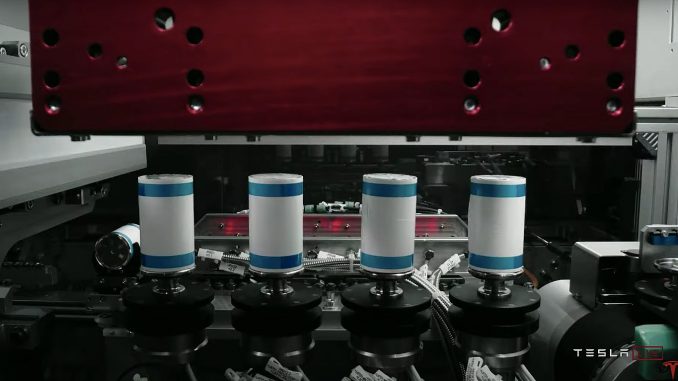 Elon Musk has said Tesla is hoping to reach high volume production of their new 4680 battery cells by the end of 2022. According to a new report the automaker is still struggling with some aspects of production and high volume production will take longer than anticipated.
The report comes from a dozen experts in the battery industry that spoke with Reuters. None of the sources were identified, but nine of them have "close ties to Tesla," with three of them having personally examined their battery tech through teardowns.
According to those experts Tesla's biggest production bottleneck right now is the dry-coating technique they acquired from Maxwell in 2019, with the sources saying they might not be able to fully implement the new manufacturing process until 2023.
As a result, the financial savings from the new cells, which has been estimated to reduce battery production costs by as much 50%, hasn't reached its peak yet.
Despite not running at full production, Tesla has still been able to realize some savings with the new 4680 cells that they have been able to produce. The sources cited in the report say Tesla has been able to cut Model Y battery costs by between $2,000 and $3,000, already about half way to their ultimate savings goal.
Those savings have mostly come from the larger form factor of the batteries, which are bigger than the previous 2170 cells and therefore take up more space and requiring fewer cells.
More savings have also come from fewer weld points required for the new cells. According to the experts Tesla has been able to reduce the number of weld points from 17,600 to just 1,660, and with the simpler design  requires fewer connectors and other components, further reducing costs.
"With the older technology, Tesla needs about 4,400 cells to power the Model Y and there are 17,600 points that need to be welded – four per cell – to create a pack that can be integrated into the car, the sources said."

"The 4680 battery pack only needs 830 cells and Tesla has changed the design so that there are only two weld points per cell, slashing the welding to 1,660 points and leading to significant cost savings."
One person named in the report, 2019 Nobel laureate and co-inventor of lithium-ion batteries  Stan Whittingham, said Tesla will reach its production and savings goals, it will just take longer than Musk hopes.
"I think he will solve it, but it won't be as quick as he likes. It's going to take some time to really test it," he said.