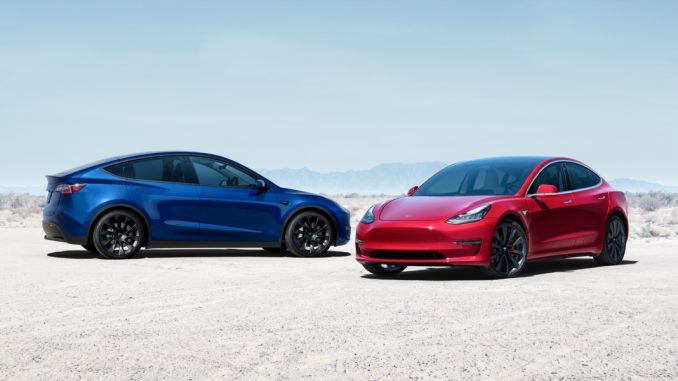 What better time than the summer to take a Tesla for a test drive. The automaker is taking the Model 3 and Model Y on the road for a number of touchless test drive events across Canada over the next few weeks.
Spots usually fill up very quickly, so RSVP as soon as you can.
If you do end up buying a Tesla after your test drive (and you will want to), be sure to use this link before placing your order to receive 1,500km of free Supercharger credits.
Vancouver, British Columbia
Vehicles: Model 3 and Model Y
Where: Jericho Tennis Club, 3837 Point Grey Rd Vancouver, BC V6R 1B3 Get directions
When: July 31 — August 15, 10:00am – 6:00pm
Kelowna, British Columbia
Vehicles: Model 3 and Model Y
Where: Summerhill Pyramid Winery, 4870 Chute Lake Rd Kelowna, BC V1W 4M3 Get directions
When: July 30 — August 1, 10:00am – 6:00pm
Kelowna, British Columbia
Vehicles: Model 3 and Model Y
Where: Sandhill Wines, 1125 Richter St Kelowna, BC V1Y 2K6 Get directions
When: August 14 — August 15, 10:00am – 6:00pm
Markham, Ontario
Vehicles: Model 3 and Model Y
Where: 95 Clegg Rd, Markham, ON L6G 1B9 (Get directions)
When: July 30, 11:00am – 1:30pm
Markham, Ontario
Vehicles: Model 3 and Model Y
Where: Hilton Toronto/Markham Suites Conference Centre & Spa, 8500 Warden Ave Markham, ON L6G 1A5 (Get directions)
When: August 1, 10:00am – 5:00pm
Barrie, Ontario
Vehicles: Model 3 and Model Y
Where: 2474 Doral Dr, Innisfil, ON L9S 0A3 (Get directions)
When: July 30, 10:00am – 6:00pm
Kitchener, Ontario
Vehicles: Model 3 and Model Y
Where: Bingemans, 425 Bingemans Centre Dr Kitchener, ON N2B 3X7 (Get directions)
When: August 7 — August 8, 11:00am – 4:00pm
London, Ontario
Vehicles: Model 3 and Model Y
Where: Courtyard by Marriott London, 864 Exeter Rd London, ON N6E 1L5 (Get directions)
When: July 25 — July 26, 10:00am – 5:00pm
Gatineau, Quebec
Vehicles: Model 3 and Model Y
Where: Hilton Lac Leamy, 3 Boulevard du Casino Gatineau, QC J8Y 6X4 (Get directions)
When: July 31, 10:00am – 6:00pm
Levis, Quebec
Vehicles: Model 3 and Model Y
Where: St. Romuald Plaza, 1040-1042 1060 de Ia Rive Sud Boulevard Levis, QC 6W5 5M6 (Get directions)
When: August 8, 12:00pm – 6:30pm
Sherbrooke, Quebec
Vehicles: Model 3 and Model Y
Where: Delta Hotels by Marriott Sherbrooke Conference Centre, 2685 Rue King Ouest Sherbrooke, QC J1L 1C1 Get directions
When: August 6, 11:00am – 6:00pm
Orford, Quebec
Vehicles: Model 3 and Model Y
Where: Estrimont Suites & Spa, 44 Avenue de l'Auberge Orford, QC J1X 6J3 Get directions
When: August 7, 10:00am – 4:00pm
Saguenay, Quebec
Vehicles: Model 3 and Model Y
Where: Vieux-port de Chicoutimi, 49 Rue la Fontaine Chicoutimi, QC G7H 7Y7 Get directions
When: September 26 — September 30, 10:00am – 6:00pm
Terrbonne, Quebec
Vehicles: Model 3 and Model Y
Where: Imperia, 2935 De, Boulevard De La Pinière O Terrebonne, QC J6X 0A3 Get directions
When: July 29, 11:00am – 6:00pm
Gatineau, Quebec
Vehicles: Model 3 and Model Y
Where: Hilton Lac Leamy, 3 Boulevard du Casino Gatineau, QC J8Y 6X4 (Get directions)
When: July 31, 10:00am – 6:00pm
Dorvalle, Quebec
Vehicles: Model 3 and Model Y
Where: Le club Forest & Stream, 1800 Chemin Bord-du-Lac Dorval, QC H9S 2E6 Get directions
When: August 1, 10:00am – 4:00pm
Pointe-Claire, Quebec
Vehicles: Model 3 and Model Y
Where: Wild Willy's, 20 Cartier Ave Pointe-Claire, QC Get directions
When: August 8, 12:00pm – 6:30pm
Kirkland, Quebec
Vehicles: Model 3 and Model Y
Where: Chocolat Favori Kirkland, 16956 Trans-Canada Hwy #1 Kirkland, QC H9H 0C5 Get directions
When: July 30, 1:00pm – 8:00pm