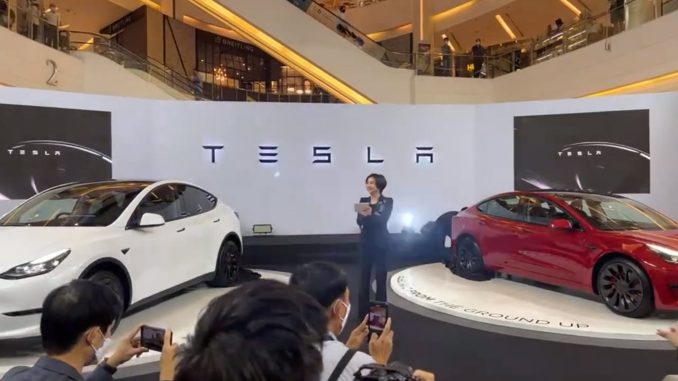 Tesla has officially launched sales in Thailand. The automaker added a Thai Design Studio to its website on Wednesday after holding a special presentation at a local mall, giving customers in the country the option to order the Model 3 or the Model Y.
All three variants of both the Model 3 and Model Y are available and have been competitively priced against other EVs in the Thai market.
Tesla Model 3 was the second best selling EV in Thailand in 2021
For the Model 3 the Rear-Wheel Drive (RWD) variant starts at ฿1,759,000, or about $68,600 CAD/$50,300 USD. The Long Range variant starts at ฿1,999,000 ($77,900 CAD/$57,100 USD) while the Performance variant starts at ฿2,309,000 ($90,000 CAD/$65,900 USD).
The Model Y is priced as follows:
RWD – ฿1,959,000 ($76,400 CAD/$56,000 USD)
Long Range – ฿2,259,000 ($88,100 CAD/$64,500 USD)
Performance – ฿2,509,000 ($97.800 CAD/$71,700 USD)
This pricing structure is extremely competitive when compared to other EVs available in Thailand. For comparison the Volvo XC40 Recharge starts at ฿2,090,000 and goes as high as ฿2,490,000. (h/t: @ekapobkul)
The BMW iX3 is priced even higher, starting at ฿3,359,000.
Tesla's Design Studio does not list when the vehicles are expected to arrive in the country, but during a special presentation Tesla said the first deliveries will take place in the first quarter of 2023. All of the vehicles destined for Thailand are expected to shipped from Giga Shanghai.
You can watch the Tesla presentation in Thailand below.