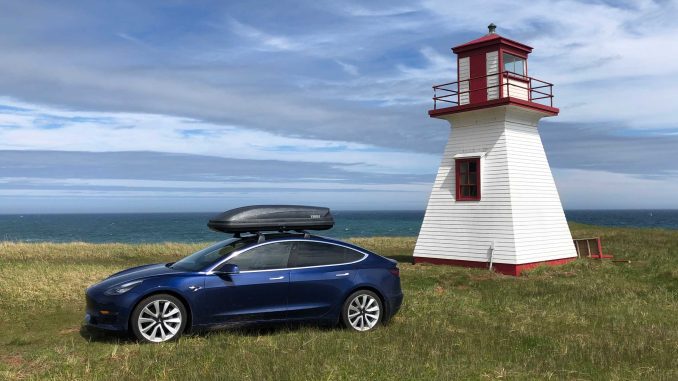 The Tesla Model 3 was the most popular electric vehicle (EV) in Canada in 2022. The Rear-Wheel Drive (RWD) Model was had more than double the sales of the next closest competitor, at least among those that qualify for the federal iZEV incentive, even though it wasn't eligible for the entirety of 2022.
Canada's iZEV incentive offers up to a $5,000 discount on the purchase of an eligible zero emission vehicle (ZEV). The program requires that a passenger battery electric vehicle (BEV), plug-in hybrid electric vehicle (PHEV), or fuel cell electric vehicle (FCEV) be priced under $45,000 to qualify, with higher priced trims of the same vehicle up to $55,000 also qualifying for the incentive.
In 2022 Transport Canada also expanded the rules to include station wagons, pickup trucks, sport utility vehicles (SUVs), and minivans priced under $60,000, also including higher trims up to $70,000.
In late 2021 Tesla surprised everyone by increasing the price of the entry-level Model 3 Rear-Wheel Drive (RWD), the only variant that qualified, above the $55,000 threshold, therefore disqualifying it from the program.
Despite this the Tesla Model 3 was still the most popular incentive-eligible BEV in Canada with 10,944 units sold last year, according to Transport Canada data compiled by Drive Tesla. This was because these cars purchased prior to that price increase but due to the long wait times, were only delivered in 2022, allowing buyers to claim $54,695,000 worth of incentives.
The Model 3s figure was more than double the next most popular BEVs in Canada, which were the Hyundai Kona Electric (5,361), Hyundai IONIQ 5 (4,812), Chevy Bolt EUV (3,198), Ford Mach-E (1,917), and VW ID.4 (1,837).
When you include all categories of vehicles that were eligible for the incentive (BEVs, PHEV, FCEV), Hyundai was the most popular automaker with buyers claiming $60,237,187 worth of incentives in 2022 (12,777 units). That was below Tesla's 2021 incentive total which was a little over $79 million (15,841 units).
Hyundai's figure was broken down among six different vehicles, the Kona Electric (5,361), IONIQ 5 (4,812), Tuscon PHEV (1,554), Santa Fe PHEV (871), Ioniq PHEV (145), and Ioniq electric (34). When only looking at BEVs however, Hyundai was still second to Tesla with 10,207 incentives claimed in 2022.
Outside of Tesla and Hyundai the numbers drop off considerably. The next most popular automaker was Chevrolet with 5,718 Bolt EV and EUVs sold last year. Next was Chrysler with 4,882 Pacifica Hybrid minivans sold, followed by Toyota (bZ4X-412, Mirai-10, Prius Prime-2,595, RAV4 Prime-1,488).