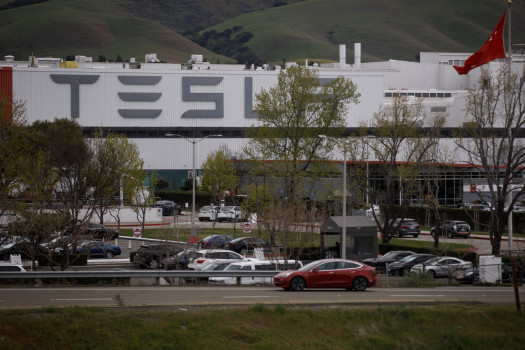 Tesla revealed last week it had fired an employee at its factory in Fremont, alleging an act of malicious sabotage caused a production line to temporarily shut down.
We are now learning more about the alleged incident after an email was leaked and it appears to have been the result of a "peaceful direct action protest."
The email, which was obtained by protocol, was sent by a Tesla engineer on September 30. That is exactly one week after the grand jury decision to not charge the officers involved in the killing of Breonna Taylor earlier this year.
The now fired engineer sent the email to several colleagues to explain the reasons behind the peaceful protest, and how his "role at Tesla fits within the broader movement for racial, social and economic justice." He asked the recipients of the email to forward it on to anyone else they felt were owed an explanation.
"I have done a substantial amount of work over the years to heal from those personal traumas. Unfortunately, the events of 2020 have punctured new wounds and old scars. But this is not about me, this is about a system that has little to no regard for Black and Brown bodies. This is about shutting down technocratic oppression in order to open up this nation's bodily and spiritual wounds."
On the day the protest took place, about a dozen engineers took part in a "bridge" conference call to discuss the disruption and shutting down of part of the factory. According to an employee on that call, the author of the leaked email said he had resolved the issue, to which one person responded to ask if the outage had been the result of a prank.
Without explicitly confessing to the act, the engineer instead talked about why such protests are necessary.
"Direct action protests within the workplace often occur as a means of expressing the pain and confusion felt daily in the lives of oppressed people. As a Tesla employee, I often wonder where my role sits to advance the causes of Black and Brown liberation all while economically benefiting from the exploitation of historically marginalized Black and Brown labor on stolen Chochenyo Ohlone land."
His email goes on to say he was unsure what the future held for him following his actions. He hoped his actions would be "a catalyst for genuine change" within Tesla.
"To conclude, I have been asking myself: is Tesla a place where people who have experienced profound intergenerational trauma can work and thrive? I still don't know the answer to that, but the next few days will acutely reveal that for me."
During Tesla's internal investigation into the incident, they found the employee tried to blame a co-worker for the act and also attempted to destroy a computer, all in an effort to cover his tracks. The employee, who was not named in the email, eventually confessed after being shown "irrefutable evidence" of his actions.