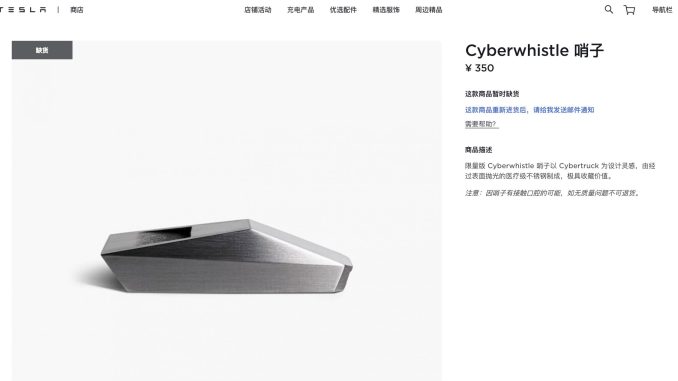 Tesla fans in China were just as eager as those in North America to get their hands on the Cyberwhistle.
The limited edition collectible sold out within hours of its launch in Canada and the US in November, even with a somewhat hefty price tag of $65 CAD or $50 USD.
A similar price of ¥350 ($70 CAD) wasn't enough to deter Chinese fans after it went on sale in the country on Monday morning.
In less than 24 hours later the Cyberwhistle was sold out.
In less than 24 hours Tesla Cyberwhistle is sold out in China. Tesla Wireless Phone Charger only solid black is in stock. Did you buy yours?#Tesla #CyberWhistle #WirelessCharger #TeslaChina $TSLA pic.twitter.com/7ATF5OqYwC

— 42HOW (@42how_) January 4, 2022
In the same amount of time, knock-offs have already started appearing online in China.
Tesla owner and enthusiast @Ray4Tesla shared images of several Cyberwhistle listings with prices ranging from a low of ¥118 to ¥188 ($23 to $38 CAD).
Based on the photos of the listings, some of them look fairly accurate, even with similar packaging.
Others are clearly knock-offs in different sizes and colours.
With the product being listed as limited edition, and the fact it hasn't been restocked in North America, some fans might have no choice but to purchase a counterfeit version if they want a taste of the Cyberwhistle.
https://twitter.com/ray4tesla/status/1478161549877407744