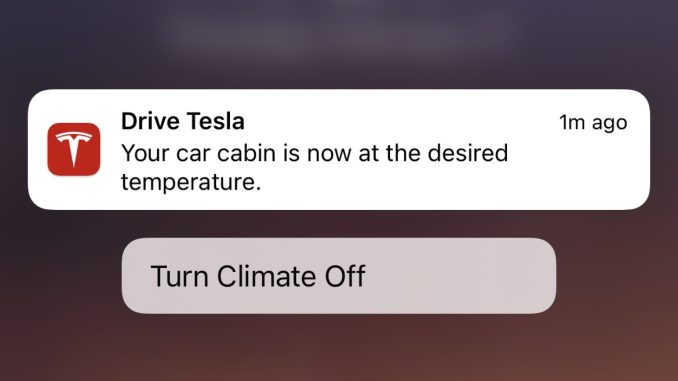 Tesla has released a new version of their mobile app on the iOS App Store, giving owners more functionality to control their car.
Referred to as actionable notifications in the release notes, the new feature turns the Tesla app notifications into something you can interact with more than just tapping on it to open the app.
For example, when turning on the climate controls from the app, the usual notification of "Your car cabin is now at the desired temperature" still appears, but now you can also turn off climate controls directly from the lock screen.
Simply long press on the notification and a new "Turn Climate Off" button appears.
Another actionable notification that has already been discovered is the ability to stop charging your vehicle while it is plugged in and before it reaches your charging limit.
According to Tesla App Updates (@Tesla_App_iOS), the source code indicates Tesla may soon allow you to turn enable Climate Keeper from within the app.

Climate Keeper is a HVAC setting that you can only turn on from within the car that keeps the cabin at your set temperature for an extended period, similar to Dog Mode but without the on-screen animations and message.
Let us know in the comments below if you discover any other actionable notifications.