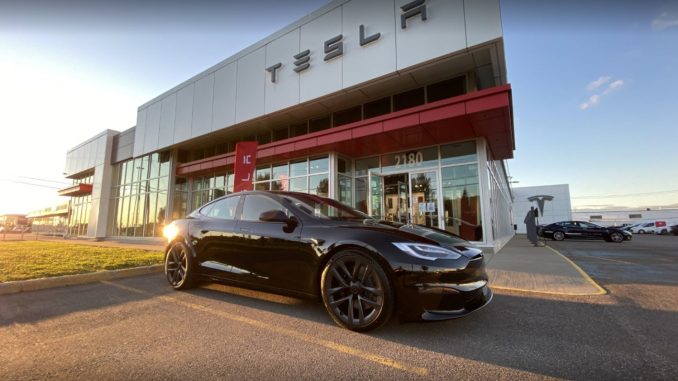 Tesla has officially filed its proxy statement for the upcoming Annual Meeting of Stockholders, revealing stockholders will vote on a 3-for-1 stock split on August 4, 2022.
To do so the company is proposing a tripling in the number of authorized shared of Tesla's common stock from 2 billion to 6 billion.
"The primary purpose of the Authorized Shares Amendment is to facilitate a 3-for-1 split of our common stock in the form of a stock dividend (the "Stock Split"). As of June 6, 2022, we have 1,036,390,569 shares of common stock outstanding, and the current number of authorized shares of our common stock is 2,

,000,000, which is insufficient to effectuate the Stock Split. Our Board intends to approve the Stock Split, subject to and contingent upon stockholder approval of the Authorized Shares Amendment."
In the filing Tesla says one of the primary reasons for the stock split is so that employees who have recently joined the company can reap the same benefits as those employees who were around at the time of the last stock split in August 2020.
"Unlike other manufacturers, we offer every employee the option of receiving equity. Since our stock split in August 2020 to June 6, 2022, our stock price has risen 43.5%. While this value appreciation has led to our employees benefiting enormously through the years, we want to make sure all employees, no matter when they join, have access to the same advantages."
The proxy filing also revealed an upcoming change to the Board of Directors in which the total number of seats will be reduced from eight to seven with current member Larry Ellison deciding to not stand for re-election.
"In June 2022, Lawrence J. Ellison, a Class III director, determined collectively with the Nominating and Corporate Governance Committee and the Board that he will not stand for re-election to the Board when his current term ends at the 2022 Annual Meeting."
After his recent share sales, the filing says that CEO Elon Musk holds a 23.5% stake in the company, an increase from February when he held a 21.2% stake. Two of the company's other largest shareholders, Vanguard and Blackrock Inc. hold a 6% and 5.1% stake respectively.
Tesla's Annual Meeting of Stockholders will take place on August 4, 2022 at 4:30pm Central Time in Austin, Texas.
Shares of Tesla (TSLA) are up in after-hours trading following the publication of the filing, which you can read here.