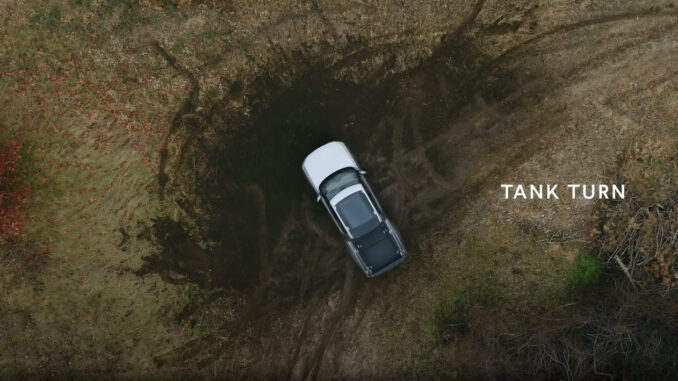 After a short delay, Rivian is planning to deliver their first R1T electric pickup trucks some time this month. Unfortunately for those owners, one of the EVs signature features has also been delayed and won't be available at launch, or potentially ever.
In December 2019 Rivian unveiled the 'Tank Turn', where the electric truck spun around in a circle, much like a tank can. Both the R1T and R1S SUV can perform this trick (only on slick surfaces like dirt or gravel) thanks to its quad-motor setup where each wheel has its own electric motor.
As the left wheels rotate forward, the wheels on the right side of the vehicle rotate backwards.
While it sounds simple in theory, the automaker has found it harder than expected to implement safely. Rivian chief engineer Charles Sanderson spoke to MotorTrend and explained there are four main reasons the company is still trying to perfect the 'Tank Turn'.
The first is the surface of the ground. The car can't know for certain what is underneath each tire, which means one or more could need more or less power to break traction. If there is any difference, the car could veer off in the wrong direction. You can see this happen just as the R1T starts its tank turn in the video below, before correcting and ending up turning in a circle.
Another reason is the truck is not a perfect square so it won't always rotate around the exact center of the vehicle. This could again lead to the car veering off in the wrong direction.
Another complication is gravity. Unless the surface you are trying the Tank Turn on is perfectly level, the car will slide off in the direction of the grade as it spins.
Finally there's the sheer speed of the Tank Turn. According to Sanderson, the amount of power required for the maneuver is very high, resulting in the truck spinning very quickly, almost like an amusement park ride. Rivian is worried some drivers might not be prepared for it and lose control of the vehicle.
All of the issues require Rivian to come up with safeguards to prevent them from happening in the first place. They haven't been able to figure it out yet, and with other priorities like getting the vehicles into the hands of customers, it might be a while until we see the feature released, if ever.