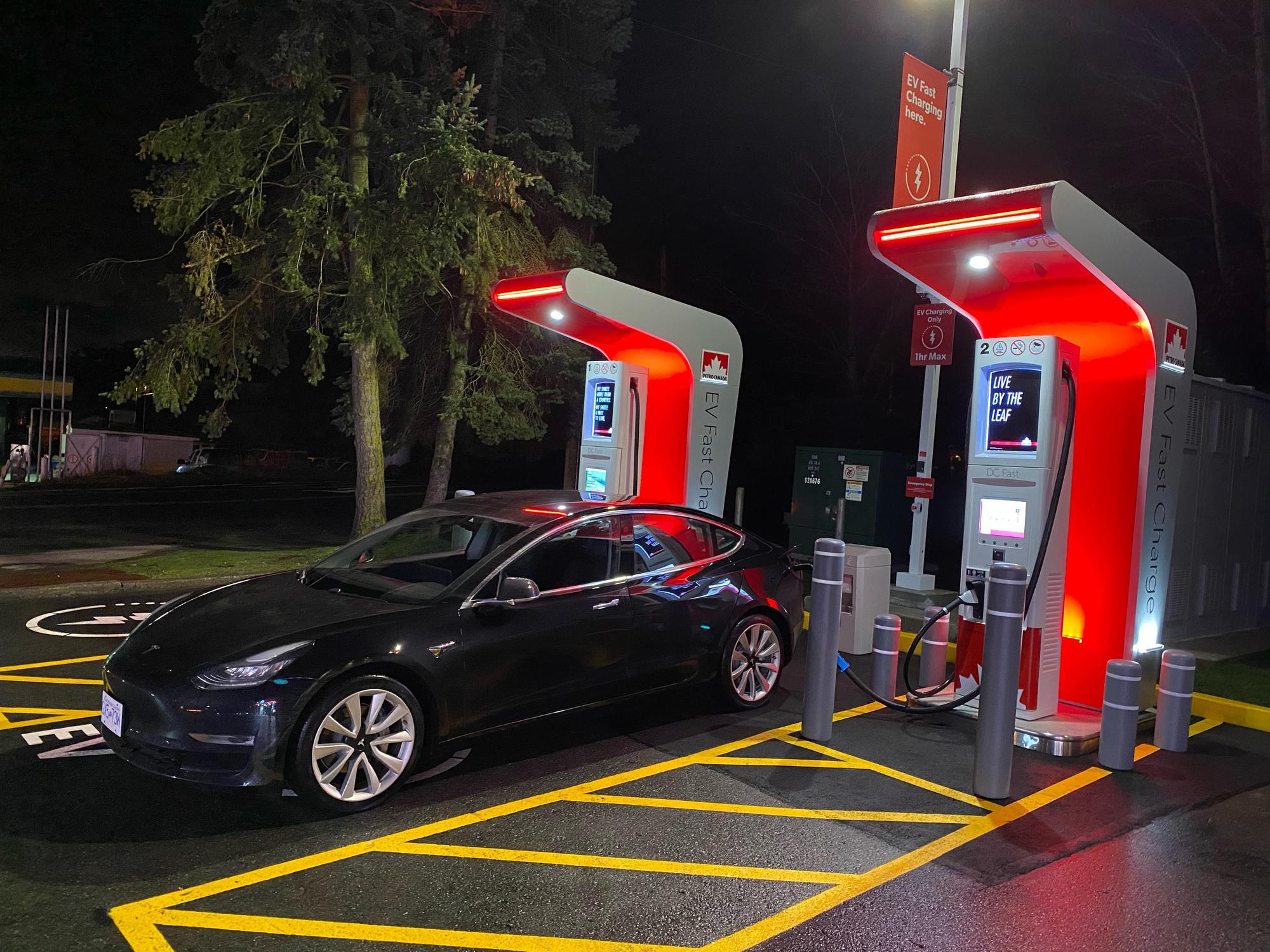 Plugging in and charging on Petro-Canada's Electric Highway just got a lot more expensive for EV owners. Instead of billing owners at differing rates in each province, the oil giant has now instituted a flat rate across the country.
According to the Petro-Canada website, the standard EV charging fee for all of Canada is now $0.50 per minute.
"When you join us along Canada's Electric HighwayTM, pay $0.50 per minute while you charge, with no connection or idling fees," the website reads.
Previously the website said:
"Pay by the minute when you visit us on Canada's Electric Highway™ with no connection or idling fees. Pricing may vary by province."
This is a huge increase from the previous rates which were as low as $0.25 per minute in New Brunswick and Nova Scotia to a high of $0.33 per minute in Alberta, Manitoba, Ontario, and Saskatchewan. The rate in British Columbia used to be $0.27 per minute.
This new rate is even higher than what Petro-Canada was charging in Quebec, which used to have the cheapest rate just a few months ago.
In June the cost to charge your EV at Petro-Canada in Quebec, where the majority of the electricity comes from cheap hydroelectric sources, was increased 125% to $0.45 per minute, after previously being at just $0.20 per minute.
When that price increase was instituted, we reached out to the Suncor-owned company for an explanation, and were told it was due to "factors such as the cost of electricity, cost of the infrastructure and market dynamics all [of which] determine the fees for EV charging which can vary based on location."
UPDATE 2:15pm PT: According to Suncor, the price increase took effect yesterday, November 1 and was done to help expand and improve their network. You can read their full statement below.
"We're always working to improve the charging experience for our Petro-Canada EV charger customers. The price change, which took effect on November 1, will help to cover the costs of operation and expansion of the network. It will also improve our ability to make our chargers more reliable and continue to offer improved features."
What makes this price increase even more difficult to understand is that just last week Petro-Canada published an open letter acknowledging how unreliable their EV charging network is.
We have reached out to Petro-Canada for an explanation on this latest change, but have not received a response by the time of publication. We will update this article when we do.
If you are an RBC customer, you can still take advantage of their offer for $100 of free charging at Petro-Canada.