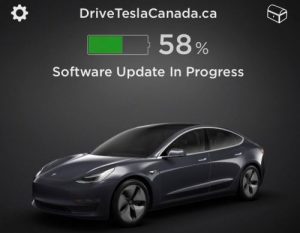 Earlier this week Tesla pushed out its latest free over-the-air (OTA) software update, 2020.8.1, which finally contained the Full Self-Driving (FSD) visualizations for Canada.
About a day later, Tesla suddenly halted the release of the software update, after numerous owners reported the update either failed altogether, or didn't complete the download. This was confirmed by Tesla Support, who said the engineering team had cancelled the update.
@thirdrowtesla @BLKMDL3
looks like 2020.8.x has been halted, that's why it vanished on both of my vehicles pic.twitter.com/sBuUykjhwG

— Sacramento T Ξ S L A (@sacramentotesla) March 11, 2020
Tesla has now fixed the issues related to 2020.8.1, and released a new version, 2020.12. There is nothing new in this update according to the release notes, although they do not include mention of the "Additional Language Support" that was in the cancelled 2020.8 release.