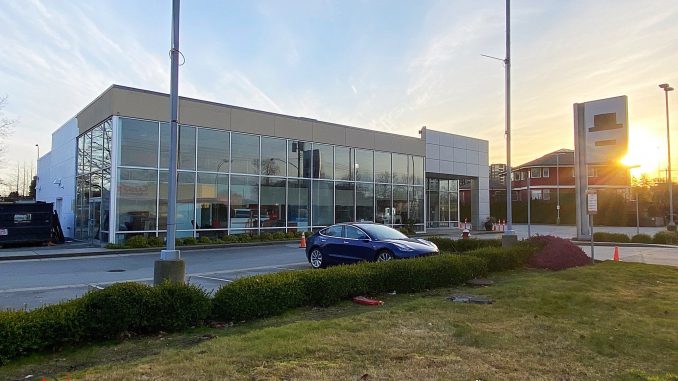 Tesla is expanding their presence again in British Columbia as Drive Tesla has learned the automaker will soon be opening a new Service & Delivery Center in Richmond.
According to sources with knowledge of the deal, Tesla is taking over the former Infiniti dealership at 9200 Bridgeport Road. We were also able to confirm the deal with two other independent sources.
UPDATE: The new Tesla Richmond location is now open.
The new Tesla location in Richmond is now open!https://t.co/H29wrS6B8X pic.twitter.com/aSVMkS95dE

— Drive Tesla 🇨🇦 #FSDBetaCanada (@DriveTeslaca) March 12, 2021
Work has already begun on the exterior and interior of the building to convert it for Tesla's use.
Property records indicated the building is over 4,000 square feet in size. A showroom is located at the front with a large service area at the rear accessible by seven overhead doors. There will be plenty of parking for both customers and vehicles waiting for delivery with over 70 parking spaces as well as a storage area at the rear of the 0.87 acre lot.
We do not have information on a tentative opening date for Tesla Richmond. Based on the fact that work has already begun an opening in April is likely, or possibly even this month.
Related: Job posting reveals new Tesla location coming to Richmond, B.C.
This will be the third Service Center in the lower mainland. Tesla recently expanded by opening a new Sales, Service & Delivery Center in Surrey last month.
Earlier today we also reported on a new Supercharger under construction in North Vancouver.
Thanks to Drive Tesla reader Somi Chuhon who visited the site for us to take these pictures.