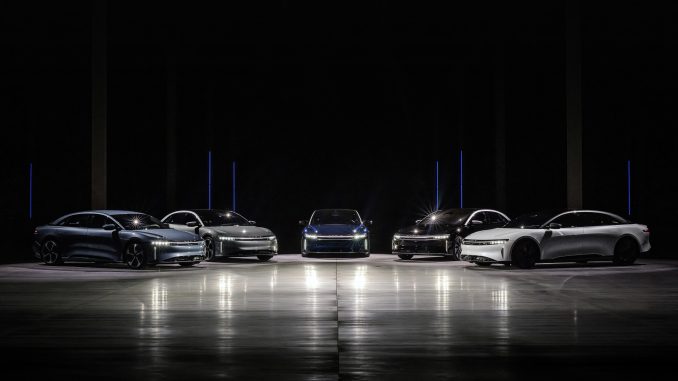 Lucid Group has announced it will bring together and unveil its full lineup of Air sedans for the first time during a special global launch event at 10:00am PT on November 15, 2022. The automaker also plans to reveal more details about its Project Gravity SUV.
Lucid has so far produced and delivered two of its four originally planned variants of the Lucid Air luxury electric sedan, the Air Dream Edition and Air Grand Touring.  The automaker has also added to the lineup with a tri-motor Air Sapphire, which is expected to begin deliveries next year.
In less than two weeks Lucid will bring these variants together for the first time, and officially unveil its final two variants – the Air Touring and Air Pure.
After the event, Lucid says it will deliver the first Air Touring to a customer.
The Air Touring sits one level below the Air Grand Touring, starting at $172,500 CAD/$107,400 USD. It offers up to 620 horsepower and up to 653km (405 miles) of estimated range. It is also the first Air sedan that can come with an optional metal roof instead of the standard glass roof on the Air Dream Edition and Air Grand Touring.
The Air Pure is Lucid's base model, starting at $127,550 CAD/$87,400 USD. It has the same estimated range as the Air Touring, but offers 480hp.
More official details on both models will be revealed at the event.
Lucid Project Gravity SUV
In their press release announcing the event, Lucid says it will include "exciting announcements about the Lucid business and future models, including the Project Gravity SUV."
Although this sounds like it will be just an update on the elusive and delayed electric SUV, Lucid's Marketing VP Jeff Curry teased on Twitter there may be more.
🤔…gotta tune in to see

— Jeff Curry (@jcurry) November 3, 2022
If you want to watch the event, you have to pre-register at dreamahead.com.