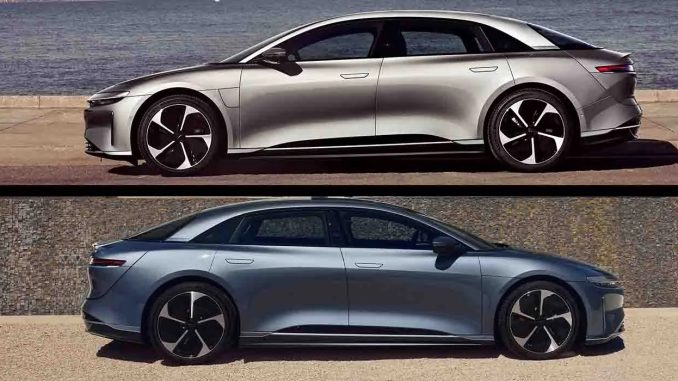 Lucid took a leaf out of Tesla's book by entering the market with a high-priced EV. The auto startup, however, has officially launched the most affordable car in its lineup.
At a special even this morning Lucid will unveil the Air Pure and Air Touring, and will tout the record-setting drag coefficient of the Air.
While Air Pure is the lowest-priced version, Lucid is a luxury brand. However, it also focuses on performance and tries to eke out as much driving range as possible from the battery.
Lucid achieved this thanks to an industry-leading drag coefficient of 0.2. In comparison, Tesla's Model S Plaid has a drag coefficient of 0.208.
Lucid, however, is not satisfied yet with the Air's performance. This year's model of the Air boasts a drag coefficient of 0.197, making it even more aerodynamic.
The Lucid Air Pure comes as Rear-Wheel-Drive or All-Wheel-Drive. It has an output of up to 480hp and a driving range of 410 miles for the AWD variant. Production and delivery start next month with the AWD.
The Lucid Air Touring is more powerful, delivering 620 hp. It accelerates from 0 to 60 mph in 3.4 seconds and lasts 425 miles between charges.
The Air Pure starts at $87,400 USD/$127,550 CAD, while the Touring starts at $107,400 USD/$172,500 CAD.
Here is the full specs sheet for all Air variants. Note that delivery dates are for US customers, no Canadian dates have been provided thus far.
Lucid Air

Pure AWD*

Touring

Grand Touring

Grand Touring Performance

Sapphire**

Deliveries
(in USA)

December 2022

November 2022

In progress

In progress

First half of 2023

Drivetrain

Dual-Motor AWD

Dual-Motor AWD

Dual-Motor AWD

Dual-Motor AWD

Three-Motor, AWD with Twin-Rear-Drive Unit

Power

480 hp

620 hp

819 hp

1,050 hp

More than 1,200 hp

Acceleration, 0-60 mph*

3.8 sec

3.4 sec

3.0 sec

2.6 sec

1.89 sec

EPA-estimated Range

410 mi (19″ wheels)

425 mi (19″ wheels)

 

516 mi (19″ wheels)

469 mi (21″ wheels)

446 mi (21″ wheels)

TBA

Driving Efficiency (based on EPA)

4.46 mi/kWh

4.62 mi/kWh

4.61 mi/kWh (19″ wheels)

4.19 mi/kWh (21″ wheels)

3.78 mi/kWh

TBA

Charging

Up to 200 miles of range in 15 minutes

Up to 200 miles of range in 15 minutes

Up to 300 miles of range in 22 minutes

Up to 300 miles of range in 22 minutes

TBA