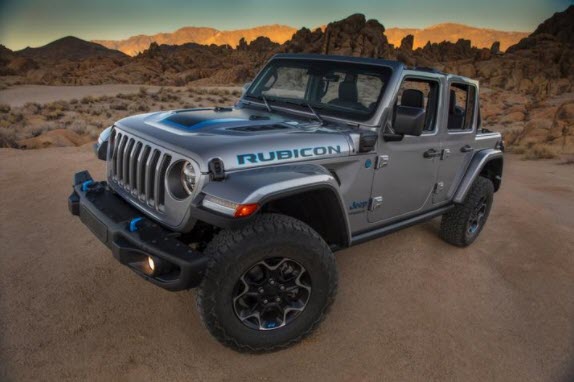 Facing the prospect of stiff fines for failing to meet fuel economy and emissions regulations around the world, Fiat Chrysler introduced on Thursday the Jeep Wrangler 4xe hybrid.
Save with big discounts at your favourite Tesla accessories stores, like 10% off at Tesmanian, TesBros and Nikola Pro, plus many more. Coupon codes at DriveTeslaCanada.ca/deals.
The "plug and play" Wrangler features two electric motors paired with a 17kWh, 96-cell battery pack, good enough for up to 40km (25 miles) of electric range. Want to go further than that, then the turbocharged 2.0l four-cylinder engine kicks in, which when combined with the electric motors, provides 375 horsepower.
To recharge the battery, drivers can select to do so using an engine-powered generator, using up more fuel in the process. To fully charge the battery this way, it would take approximately 2.5 hours while driving at 72-88km/h (45-55mph).
The Wrangler 4xe is expected in showrooms in early 2021 in Canada, the US, Europe, and China. No details on pricing have been revealed.
Get 10% off at Tesloid.ca or Tesloid.com with coupon code DTC10 at checkout. Quality Tesla accessories with FREE shipping across Canada and the US.
Source: FCA