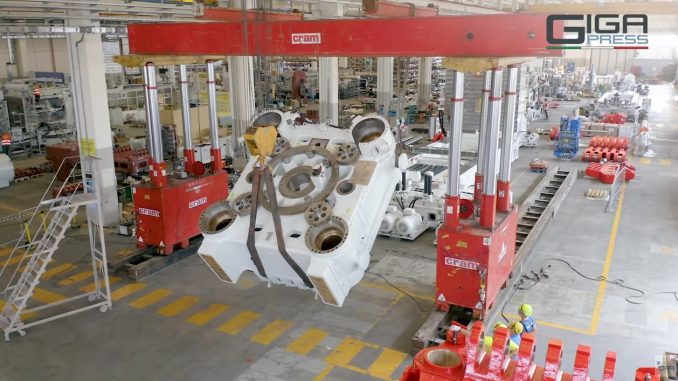 Tesla is currently taking delivery of their first 9,000 ton Giga Press in Austin, where the massive casting machine will be used for Cybertruck production at Giga Texas. While the first machine is still arriving in pieces and has yet to be assembled, IDRA Group has announced that a second 9,000 ton Giga Press is ready to shipped to Asia.
In a post on Linkedin this morning the company that makes the Tesla's Giga Press machines shared a short 7-second clip of the Giga Press with the caption "Another 9000t ready for shipping on its way to Asia." (h/t: @Tslachan)

The post did not contain any hints as to who the recipient of the Giga Press machine will be, but given that Tesla is the only automaker that has announced any plans to use the largest casting machine in the world to produce a car, let alone even the IDRA 6,000 ton Giga Press, it only makes sense that it would be for Tesla and Giga Shanghai. The only thing is that Tesla has so far only revealed the 9,000 ton Giga Press will be used to make the Cybertruck, and with no announced plans to build the Cybertruck in China, the question is what will Giga Shanghai use this casting machine for?
If the Giga Press is about to be shipped off to Giga Shanghai, one possibility is that Tesla is preparing to build their fabled $25,000 car, which would mean it could have a single body casting. This $25K EV has been rumoured to be coming for years, and it has also been rumoured that the Tesla China team was leading its design and would also lead its eventual production.
As of the most recent update from Tesla, this third generation vehicle platform will be a game changer in the automotive industry. During the Q3 2022 earnings call, CEO Elon Musk and other executives revealed it will be half the cost of the existing Model 3/Y platform, be smaller in size than the Model 3/Y platform, and that they are expecting it to exceed Model 3 and Model Y production combined.
We could find out for sure what this Giga Press will be used for during the company's first Investor Day. The event, which is scheduled for March 1, 2023 at Giga Texas, is supposed to cover a variety of topics, including discussing their "generation 3 platform."