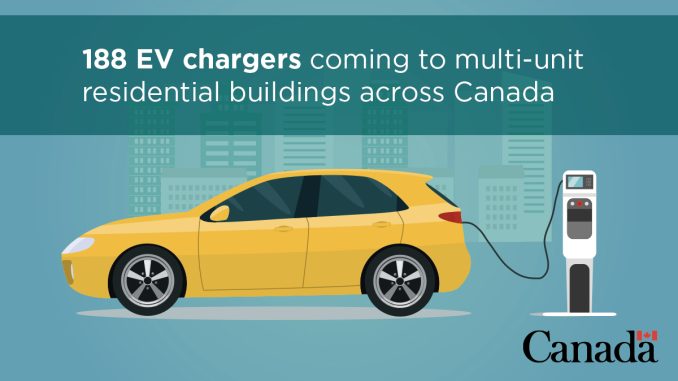 The Government of Canada is funding an investment to help people living in multi-unit residential buildings make the shift to an electric vehicle (EV).
Broadstreet Properties will be receiving $899,000 from Natural Resources Canada's Zero-Emission Vehicle Infrastructure Program to install 188 Level 2 EV chargers in a number of their buildings across the country.
Broadstreet will also be contributing more than $993,000, bringing the total project cost to more than $1,893,000.
"With a commitment to becoming a more sustainable company, it's important for us to stay up to date with current trends, opportunities and advances in technology. We are excited about this opportunity to partner with the Government of Canada to build a greener, more eco-friendly rental experience for our tenants and to support the transition to a more sustainable future for all Canadians," said Kris D. Mailman CEO, Broadstreet Properties and Seymour Pacific Developments.
The exact location of the chargers were not announced, but they will be available for tenants by November 30, 2022.
This is the second investment by NR Can to bring EV chargers to multi-unit residential buildings.
Last year a $1.4 million project with Killam Properties SGP Ltd. was announced to bring 438 EV chargers to their properties in Ontario, New Brunswick, Nova Scotia, British Columbia and Alberta.