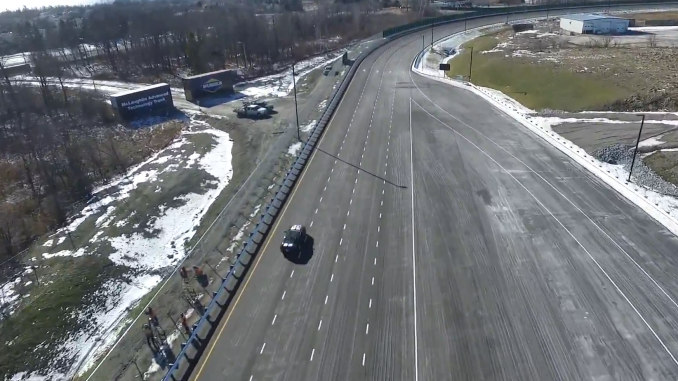 General Motors has announced it has completed construction of a 55-acre test track in Oshawa, Ontario that will help develop electric vehicles (EVs) and self-driving technology.
The site is officially known as the Canadian Technical Center McLaughlin Advanced Technology Track, or CTC MATT for short. It is located next to GM's assembly plant in Oshawa, and includes a continuous four-lane oval track that allows for speeds between 60-100km/hr.
"Canada has become the ideal place for GM to expand its engineering work for the future – and the opening of the CTC McLaughlin Advanced Technology Track will take that work even further," said Scott Bell, GM Canada president and managing director. "We're excited for the next big step forward in advanced technology development and testing – right here in Oshawa."
GM says the track will be used to help develop and integrate software and hardware for their vehicles that will help fulfill its vision for a future with "Zero Crashes, Zero Emissions and Zero Congestion."
This includes vehicle motion embedded controls, advanced driver-assistance systems, autonomous vehicle systems, infotainment, and advanced technology projects.
In a press release, the automaker said the track is already in use internally. They are hoping to have an official grand opening in the spring, pending COVID-19 restrictions.