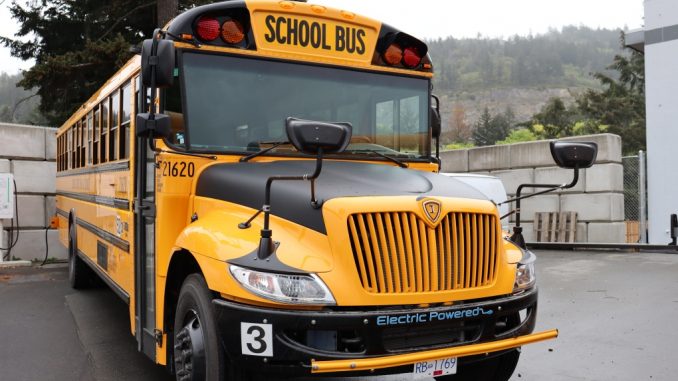 School students in Nelson and Creston, British Columbia will be catching an all-electric ride next fall.
Starting in September School District 8 (SD8) will be adding its first two electric school buses, with the eventual goal to replace all 54 of their diesel buses with electric models.
Each electric bus costs between $350,000 and $440,000 compared to $130,000 to $145,000 for their diesel counterparts. But even with the much higher price tag, the buses will save the school district in the long run.
According to SD8 manager of operations Lisa Phillips, they are expecting to save as much as $15,000 per year between maintenance costs ($5,000) and fuel costs ($10,000). (via Nelson Star)
The district replaces their diesel buses every 12 years, but the electric powertrains are expected to last longer than that.
The initial costs were partially offset with funding provided by the Ministry of Education (up to $140,000 per bus) and the CleanBC Go Electric program which provided up to $125,000 per bus. A federal loan from the Canada Infrastructure Bank provided the remaining funds.
These electric school buses joins the 18 that are already on the road in districts across the province. Last year the first electric school bus made its debut on Vancouver Island in the Sooke School District.
British Columbia's first electric school buses hit the roads this week on Vancouver Island