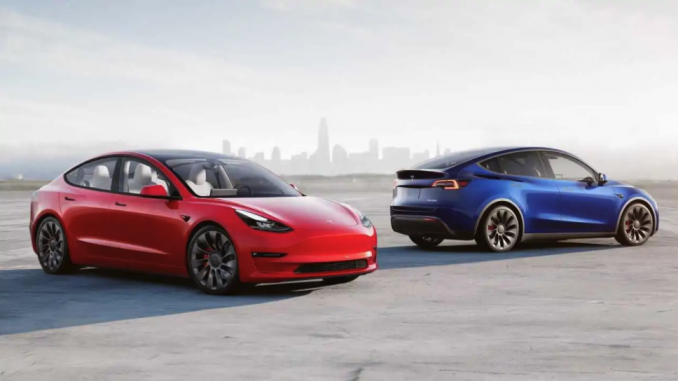 The Tesla Model Y and Model 3 are the best selling premium brand vehicles in the United States in 2021 so far, even when taking internal combustion engine (ICE) vehicles into account.
Registration data shows the two electric vehicles (EVs) have outsold the likes of Mercedes Benz, BMW, and Lexus, perennial favourites in the luxury segment.
According to data from Experian (via Automotive News), a total of 134,504 Model Y cars have been registered in the US through the end of October 2021.
Not far behind is the Model 3 in second place with 112,314 registrations.
The closest ICE competitor is the Lexus RX SUV, which was able to accumlate 98,297 registrations during the same time period.
When it comes to brand registrations as a whole, Tesla is nipping at the heels of the BMW and Lexus, even though the US automaker offers just four cars in its lineup (and has had only two for most of 2021).
2021 LUXURY REGISTRATIONS IN U.S.
Jan. 1-Oct. 31, year-over-year change
1. BMW
288,701
32%
2. Lexus
272,094
29%
3. Tesla
260,932
68%
4. Mercedes-Benz
230,273
9.10%
5. Audi
181,307
27%
6. Acura
140,858
31%
7. Cadillac
111,191
14%
8. Volvo
106,383
25%
9. Lincoln
78,967
–5.3%
10. Land Rover
69,843
13%
Source: Experian
When specifically looking at the EV segment, Tesla is in a league of their own.
Through the first 10 months of the year, the Model Y and Model 3 have a combined total of 246,818 registrations.
The Chevy Bolt EV, the next most popular EV, garnered just 23,041 registrations in the same time period.
The Bolt EV has been mired in a $2 billion recall of every single Bolt EV and Botl EUV ever made, and General Motors has not made a new one since August.
TOP 10 EV MODELS BY 2021 REGISTRATIONS
Jan. 1-Oct. 31, year-over-year change
1. Tesla Model Y
134,504
182%
2. Tesla Model 3
112,314
39%
3. Chevrolet Bolt EV
23,041
47%
4. Ford Mustang Mach-E
20,518
N/A
5. Volkswagen ID4
13,787
N/A
6. Tesla Model S
12,272
9.40%
7. Nissan Leaf
11,933
100%
8. Hyundai Kona
8,620
265%
9. Porsche Taycan
7,818
156%
10. Kia Niro
6,749
210%
Source: Experian