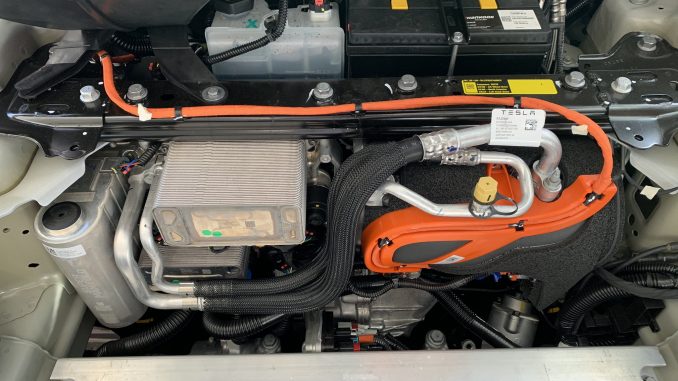 In a move that will likely disappoint critics, Tesla has once again shown off their continuous improvement by removing the plastic and wood trim supports for the Model Y Liquid-Cooled Condenser (LCC).
Save with big discounts at your favourite Tesla accessories stores, like 10% off at Tesmanian, TesBros and Nikola Pro, plus many more. Coupon codes at DriveTeslaCanada.ca/deals.
The supports first made headlines last month when an owner noticed what appeared to be cheap faux wood-trim being used to secure the LCC in place. When Drive Tesla had the opportunity to get hands-on with one of the first Model Y's in Canada (17XXX VIN), the same supports were in place, along with the green tape and a plastic belt.
Critics were quick to jump on the automaker for using parts like this on an expensive car like the Model Y. While the choice of parts and level of finish could have been improved, it seemed like Tesla was trying to fix a problem after it was discovered in early production.
Auto industry veteran Sandy Munro recently said Tesla engineering "moves at the speed of thought," implementing design changes and improvements as soon as they can enter production. The automaker is living up to that description as they appear to have figured out a way to remove the trim, green tape, and belt.
Tony Pham, creator of the Quick Bandit license plate mount (save 10% by using the coupon code drivetesla), recently took delivery of a 58XXX series VIN Model Y. After taking apart his frunk, he found his LCC was completely bare. For reference, the newest 2021 model year builds are 60XXX and above.
Get 10% off at Tesloid.ca or Tesloid.com with coupon code DTC10 at checkout. Quality Tesla accessories with FREE shipping across Canada and the US.
Model Y, with heat pump acoustic dampener (58k VIN) pic.twitter.com/nwmyQyAHUi

— Tony Pham – "Quick Bandit" license plate mount (@TonyTesla4Life) October 29, 2020
We can't quite tell from the picture how the LCC is now supported, if at all. We have reached out to Tony for more information, and will update this story when we receive more detailed photos.
If any of our readers have recently taken delivery of a Model Y, let us know in the comments below if your LCC is still supported, or if it is also now bare like this one.