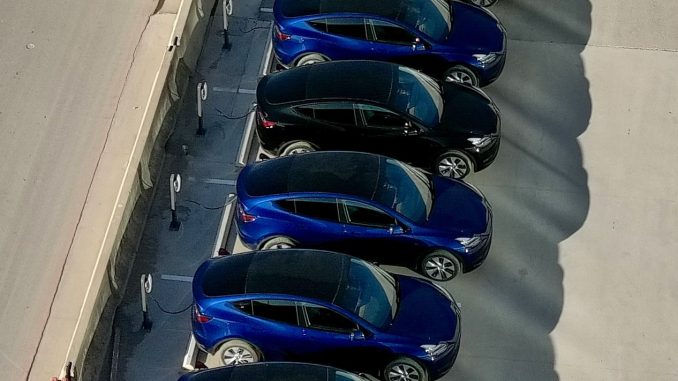 We have previously seen evidence of Tesla Model Ys being built at Giga Texas as far back as August, when images of what was reportedly the first car off the production line surfaced online.
For the first time today, a batch of newly built Model Ys have been spotted parked outside the factory.
Captured in a drone flyover by Jeff Roberts (@peterdog15), nine Model Ys were plugged in to Destination Chargers in one of the factory's parking lot.
Two of the cars were black, while the other seven were Deep Blue Metallic.
Interestingly, they all have the 19″ Gemini wheels found on the Long Range variant, and not the Uberturbine wheels from the Model Y Performance.
These cars must have been very new because they were only spotted by Roberts on Monday afternoon. They were not seen in Joe Tegtmeyer's early morning flight.
Unfortunately there is no way to confirm, but these could be among the first Model Ys with structural battery packs and 4680 battery cells fully built at Giga Texas.
There have been sightings of both Model Y frames and 4680 cell production equipment that indicates Tesla is close to implementing both of the new technologies in their cars.
Tesla also recently updated the Model Y owner's manual to reference the structural battery packs.
UPDATE 7:12pm PST: Here is the full drone flyover video just uploaded to YouTube. The Model Y's appear at 8:45.