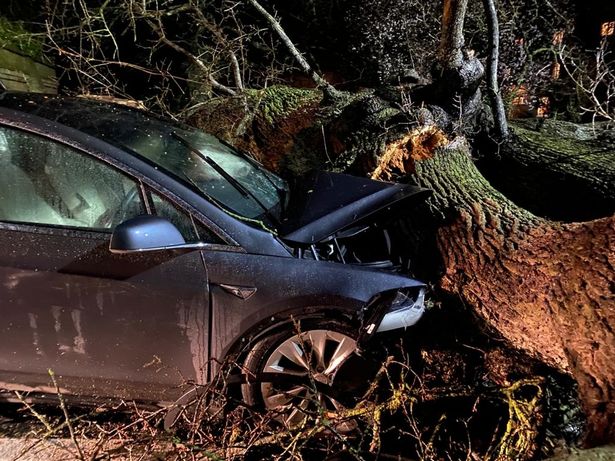 Tesla vehicles are well-known for their safety features, having won numerous awards around the world. Those safety features were put on full display in the UK this weekend saving two families from being killed in a freak accident.
Two Model X SUV's were driving towards each other along a quiet country road during Storm Dennis, which brought record rain and high winds to the UK. On the side of that road was a massive 400 year old Oak tree, that was about to come crashing down in front of both EV's.
But just as the tree was coming down, the computers and cameras in both Tesla Model X vehicles detected the falling tree and were able to engage the automatic emergency braking (AEB), saving both families from being crushed and killed in a one-in-million chance accident.
Related: Watch as Tesla's Automatic Emergency Braking (AEB) saves a jaywalker from being hit
The driver of one of the vehicles has no doubt the safety features of the Tesla saved their lives.
"Another second and we would have been crushed as I wouldn't have been able to react in time. The car undoubtedly saved our lives. We would have been killed without it."
Looking at the pictures from the accident scene, it is hard to disagree with him. It appears as though had the emergency brakes not engaged, the massive tree would have landed right on the passenger compartments, instead of the frunk.
To not only have two cars, travelling in opposite directions be hit by the same falling tree, but for those vehicles to both be Tesla Model X SUV's that had AEB engage for them, saving everybody, is a situation that is likely to never happen again. But is a true testament to the advanced safety features that make Tesla vehicles the safest cars on the road today.
h/t [Mirror.co.uk]