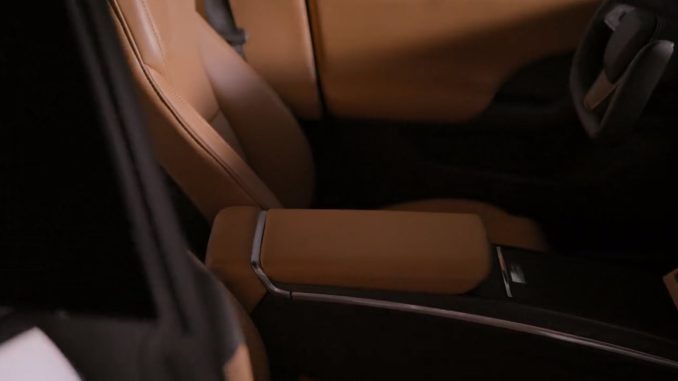 Tesla could soon be adding a new interior upholstery option for at least the Model S, as the company owned by Vicki von Holzhausen, the wife of Tesla's Chief Designer Franz von Holzhausen, has shared a glimpse of the flagship sedan's interior wrapped in a new alternative leather.
In a short five second video posted to the von Holzhausen company's Twitter account this morning, we can clearly see the center console, seat, door panel, and unmistakable yoke steering wheel of the new Model S.
As the tweet explains, it appears as though the company is preparing to make an announcement next week on June 21 about how they are expanding beyond handbags.
If the clue of a Model S interior wasn't enough, the tweet also says their alternative leather is "accelerating like never before," a subtle nod to the sub 2-second 0-60mph time of the Model S Plaid.
We can't reveal everything yet, but our alternative leather is accelerating like never before. More to come on 6.21. #sustainablemobility pic.twitter.com/u6h5wfNdQz

— von Holzhausen (@vonHolzhausen) June 16, 2022
UPDATE June 20 9:24am PST: It looks like this could unfortunately be just be a one-off collaboration. Unplugged Performance has announced they are giving away a "one-of-one" custom Model S Plaid with a number of upgrades, including von Holzhausen Banbū leather. The official announcement from von Holzhausen is still expected tomorrow, so let's hope for good news then.
We've partnered with @omaze to give you the chance to win our latest custom masterpiece, the Tesla Model S Plaid S-APEX.
Support the JuJu Foundation and ENTER NOW: https://t.co/1AWSGxV012 pic.twitter.com/EOxa4tfP2a

— UNPLUGGED PERFORMANCE (@UnpluggedTesla) June 20, 2022
This alternative leather is called Banbū, a material von Holzhausen describes on her website as "a high-performing premium leather alternative made from bamboo."
This isn't the first time von Holzhausen has teased Banbū leather in a vehicle's interior. Back in March the company tweeted a close-up photo of a car seat wrapped in the alternative leather with the caption "Sneak peek."
That tweet has since been deleted, but here is the picture that was used.