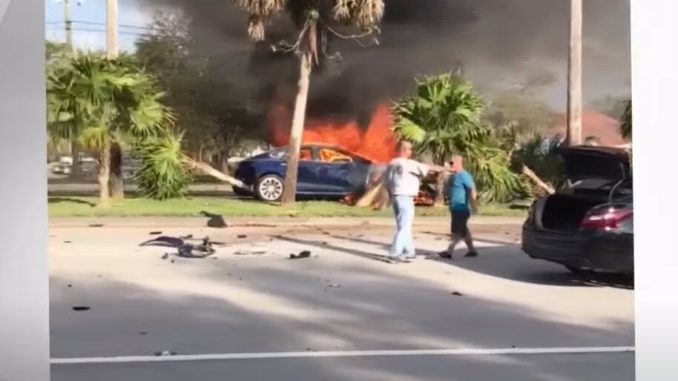 The family of Dr. Omar Awan is suing Tesla claiming the Model S has a "defective" design that prevented firefighters from rescuing him after a fiery crash in Florida.
The lawsuit alleges that first responders were unable to open the doors of the electric sedan after Awan crashed in Broward County in February 2019.
A police report from the incident says a police officer and other bystanders attempted to rescue Awan from the vehicle, but the door handles did not self-present. The door handles are deisnged to self-present in minor to moderate accidents, unless power to the vehicle is cut off.
If they fail to self-present, first responders are trained to break the window and use the mechanical release inside the door, according to Tesla.
The police report says they were unable to break the window. A police spokesperson told NBC South Florida "the flames were too strong, too big at that point."
Along with claiming a defective design, the lawsuit also alleges the Model S has an "unreasonably dangerous fire risk."
Tesla has denied the claims, saying Awan is to blame for his death as he was speeding at about 79mph (127km/h) at the time of the crash and his blood-alcohol level was found to be over the legal limit.