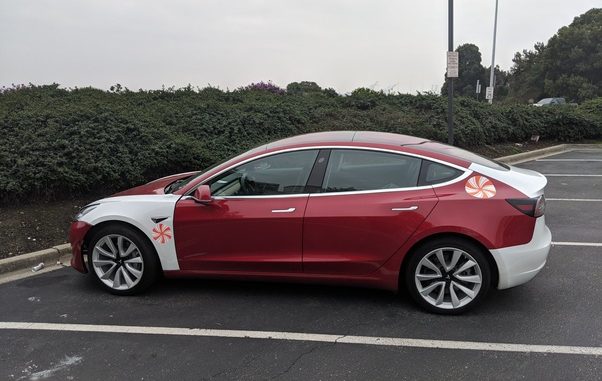 We've seen some interesting ways to modify a Tesla over the years, from wacky paint jobs to custom interiors, but this makeover of a salvaged Tesla Model 3 might take the cake…or scone.
Kiki Jewell, or Peppermint Tesla on Twitter, bought the Model 3 last year with the intention of making some extreme modifications to both the inside and outside of the electric vehicle. One year later and she so far has not disappointed with some weird and wonderful updates.
Probably the most unique and eye-catching change to the interior has been to the center console. Gone are the days of worrying about the piano black finish, as she has replaced the entire unit with an old jewelry box and converted it into a "tea engine" and scone baker.
The modifications are just for decoration, as it actually makes fresh tea from a custom teal boiler and can bake scones thanks to the addition of a customer inverter.
But the decorative touches haven't stopped there, as she also added mechanical birds and fake tree branches for them to perch on to the front and rear of the Tesla.
The Bluebird needs his battery compartment belly panel put back – can't find it, but sure it will turn up. (I have the broken Bluebird belly panel as backup.) pic.twitter.com/ubsHGtMamM

— Peppermint Tesla (@PeppermintTesla) May 23, 2020
The creativity of this Model 3 owner definitely knows no bounds, and we'll be sure to follow along with the rest of the modifications as they happen. We suggest checking out Peppermint Tesla on Twitter and YouTube for a fascinating look at what can be done to customize a Tesla Model 3.
Check out the quick intro video below which shows off all of the unique customizations.