In a move that will likely make some Model 3 owners happy while angering others, Tesla is now replacing bubbling headrests free of charge.
Over the last few years there have been more than just a few reports of the vegan leather headrests deforming with large bubbles, making them look as if someone had taken a blowtorch to them. Until now Tesla has blamed the issue on owners, saying it was a result of head oils and hair products coming into contact with the vegan leather headrests under high temperatures.
By absolving themselves of blame, owners were forced to pay nearly $400 CAD for a replacement, even if the car was still under warranty.
Now it appears as though Tesla has done an about-face, and is replacing the headrests free of charge. The only catch is it is a one time "goodwill replacement" and any subsequent replacements will be charged accordingly, as seen in this message from a mobile service technician to one of our readers.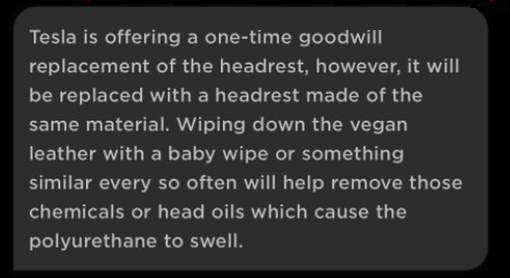 We have been able to confirm this with two other owners who have had their headrests replaced within the last two months.
As you can see, Tesla is still recommending wiping down the headrests "with a baby wipe or something similar" to prevent the issue from happening again. This is the same preventative measure recommended by the automaker last year when we reported on the issue.
It is unknown at this time if this means anyone that has already paid for a replacement will get a refund. It is unlikely, but if any of our readers who are out some money want to contact their local Service Center to find out, let us know by either commenting below or sending an email to tips@driveteslacanada.ca.