If you follow Tesla closely, it is a somewhat well known fact that hackers have been able to program their way into a Tesla vehicle and unlock certain features for themselves.
Now a Trois-Rivieres, Quebec-based company, Ingenext, has figured out a way to unlock Tesla's 50hp Performance Boost option, and is now selling the product to any Tesla owner who wants it.
The product, called the Boost 50, is configured to work on the Long Range Tesla Model 3 dual motor variant. At $1,100 USD, it costs less than Tesla's Acceleration Boost upgrade, which sells for $2,000 USD ($2,700 CAD).
According to their website, they claim anyone can install the device (or remove it) under the glovebox in just minutes. Once installed, you will get a power increase of 50 horsepower, decreasing your 0-100km/h acceleration time to 3.8 seconds.
While Ingenext claims you will still be able to receive software updates, and that the device is undetectable remotely, there are some precautions you should be aware of before dropping $1,100 on the hack/upgrade.
The first is that if visiting a Service Centre or if you have a mobile ranger coming to work on your car, they say the device should be removed. While they don't specifically say it will void your warranty, they do have a disclaimer absolving them of any responsibility in regards to the validity of your warranty, so there's that.
This Boost 50 appears to be the precursor to the next product, which can be seen on the Electrified Garage website – the stage 2 "The Ghost" upgrade.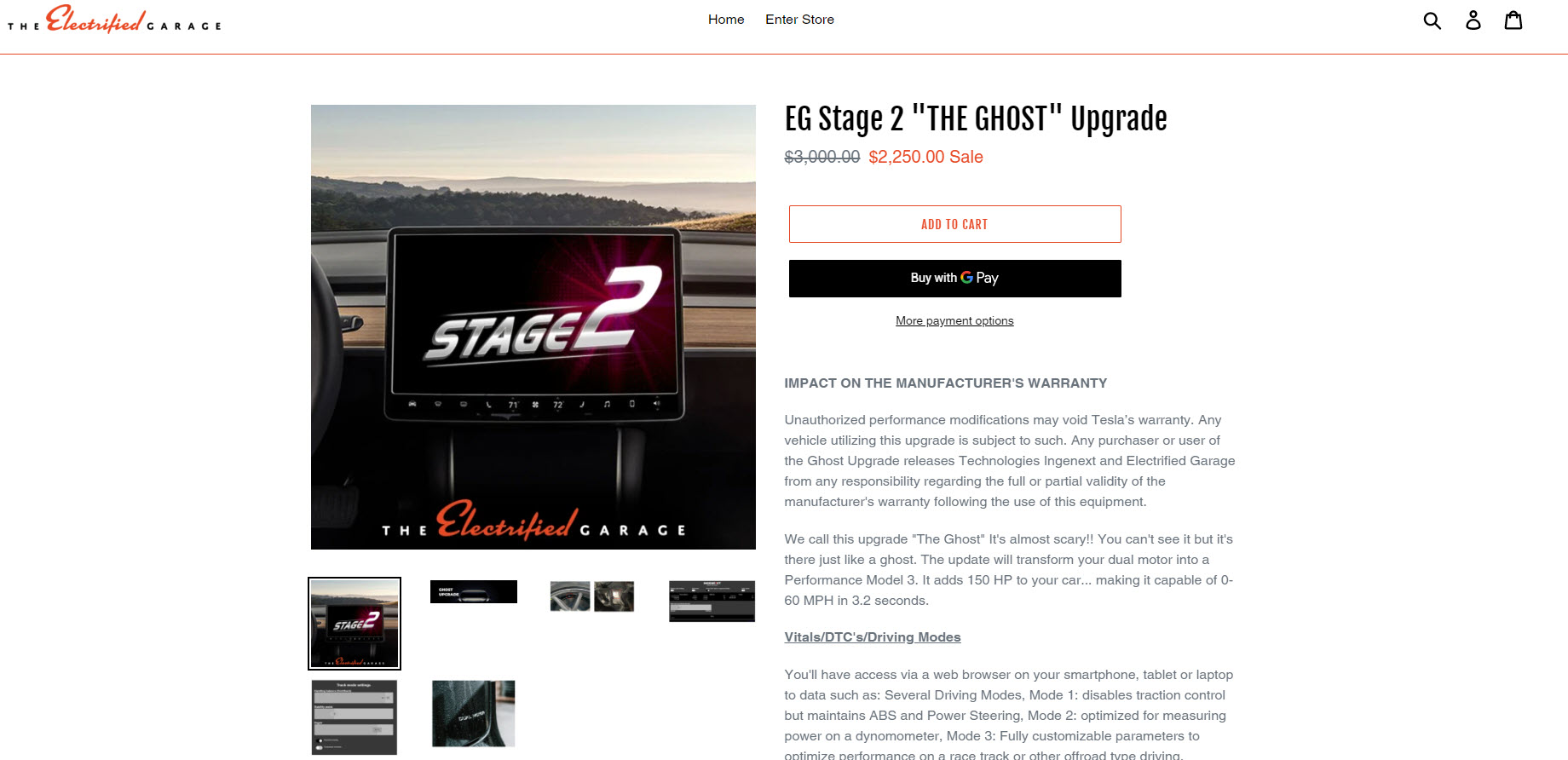 This upgrade costs $2,250 USD on sale, and will reportedly add 150 horsepower to your Model 3, dropping your 0-100km/h time to 3.2 seconds. There is an even bigger catch to installing this one in your vehicle.
The first is the upgrade has to be performed at their Electrified Garage locations.
Not only that, but you will no longer be able to receive software updates from Tesla. To get the latest software update, you need to visit one of their locations again, and pay an additional fee for each update.
With Tesla providing updates on an almost monthly (or more frequent) basis, that could get expensive over the long run.
What do you think of these upgrades? Worth it? Let us know in the comments below after checking out this video on the upgrade from Rich Rebuilds.