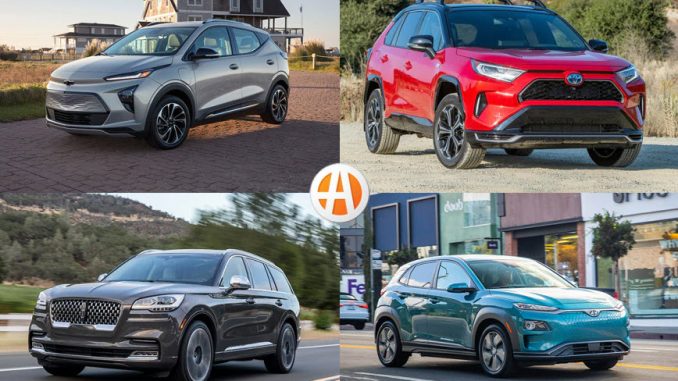 Autotrader calls 2021 "an excellent time to be shopping for a new electric vehicle." With that in mind, they decided to publish a list of the 10 best electric cars for buyers to consider.
In coming up with their list, Autotrader says they selected the cars based on several criteria. These included that the car must be under $75,000 USD, it must have a plug or have an electric range of 15 miles (24km) or more, and be available to buy within the next six months.
Not exactly an exhaustive list, but one that shouldn't exclude either the Tesla Model 3 or Model Y. But much to our surprise, neither vehicle was included. Here's what did make their top 10, which Autotrader says is listed in alphabetical order and not ranked in any way.
2022 Chevrolet Bolt EUV
2021 Ford Mustang Mach-E
2021 Hyundai Kona Electric
2021 Hyundai Ioniq Electric
2021 Lincoln Aviator Grand Touring
2021 Nissan Leaf
2021 Toyota RAV4 Prime
2021 Volvo XC40 Recharge
2021 Volvo XC60 Recharge
2021 Volkswagen ID.4
For a publication that presents itself as the "ultimate online solution" for buying and selling cars, it is pretty shocking to not include a Tesla. Especially when they include the hybrid Lincoln Aviator Grand Touring with 21 miles (34km) of electric range.
To be fair, the Model 3 did make their list in 2020. In an interview with Yahoo Finance, executive editor for Autotrader Brian Moody attempted to explain Tesla's absence in 2021.
"…we all liked the way it looked and the way it drove. We weren't crazy about the central screen where every control, every aspect of the car goes through one central screen that's over here on the side. Also one reason Tesla isn't on the list this year, I've got to be honest, increasing competition. A lot of automakers are really stepping their game up and introducing either these plug-in hybrids or all-electric cars. And the Mustang is a great example. There's a lot of competition out there."
Going by his explanation, Autotrader didn't include the best electric vehicle on the market today because legacy automakers are introducing good plug-in hybrids.
Or could it be that legacy automakers spend a lot of money with Autotrader, and this list isn't the top 10 electric cars to buy in 2021, but more their top 10 financial contributors.