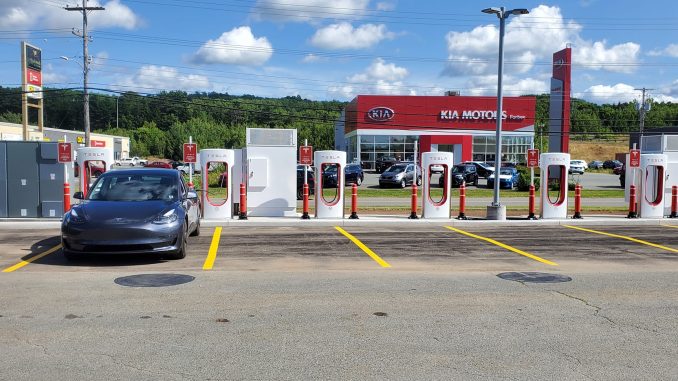 Tesla has completed their quarterly Supercharger map update, adding several new locations across Canada. However in a bit of mishap, Tesla also accidentally added the exact addresses for "coming soon" locations.
Someone noticed the blunder and those addresses have since been removed, but not before we were able to collect all of them.
We have gone through the changes (there were a lot) and done our best to pull all the new addresses, along with all the new Supercharger locations in Canada announced with this update.
Of particular interest for Ontario Tesla owners is that we finally have a location for the long awaited Supercharger in Brockville, giving hope that it will actually be built soon.
You can also check out Tesla's map here. If you spot anything we missed, let us know in the comments below.
Alberta
Calgary, AB (coming soon)
4705 130 Ave SE
Edmonton, AB (coming soon)
6004 Currents Dr NW
Milk River, AB (coming soon)
212 8 Ave NW
British Columbia
Delta, BC (coming soon)
5202 48 Street
Langley, BC (coming soon)
8750 204 St
Merritt, BC (coming soon)
3663 De Wolf Way
Mission, BC (coming soon)
31831 Lougheed Hwy
Nakusp, BC (coming soon)
1101 Highway 23
Richmond, BC (coming soon)
6551 No 3 Road
Surrey, BC (coming soon)
7488 King George Boulevard
Vancouver, BC (coming soon)
1636 West 4th Ave
Vancouver, BC (coming soon)
2710 Kaslo St
Manitoba
Morris, MB (coming soon)
654 Main St S
New Brunswick
Campbellton, NB (coming soon)
140 Roseberry St
Nova Scotia
Westville, NS (coming soon)
2500 NS-4
Ontario
Brantford, ON (coming soon)
30 Lynden Rd
Brampton, ON (coming soon)
25 Peel Centre Drive
Brampton, ON (coming soon)
2850 Queen St E
Brockville, ON (coming soon)
2399 Parkedale Ave
Burlington, ON (coming soon)
2515 Appleby Line
Madoc, ON (coming soon)
114 Bonjour Boulevard
Markham, ON (coming soon)
3997 Highway 7
Minden, ON (coming soon)
92 Water St
Mississauga, ON (coming soon)
3055 Vega Blvd
Napanee, ON (coming soon)
1 Richmond Boulevard
Oakville, ON (coming soon)
2075 Winston Park Dr
Oakville, ON (coming soon)
345 Speers Rd
Scarborough, ON (coming soon)
6780 Kingston Road
Simcoe, ON (coming soon)
140 Queensway East
Trenton, ON (coming soon)
33 Monogram Place
Vaughan, ON (coming soon)
3940 Hwy 7
Windsor, ON (coming soon)
N4150 Walker Road
Quebec
Alma, QC (coming soon)
1055 Avenue du Pont S
Berthierville, QC (coming soon)
860 Avenue Gabriel-Brissette
Gatineau, QC (coming soon)
1248 Boulevard la Vérendrye E
Lachenaie, QC (coming soon)
1115 Montée des Pionniers
Lachute, QC (coming soon)
465 Avenue Béthany
Paspebiac, QC (coming soon)
111 Boulevard Gérard D. Levesque O
Trois Rivieres, QC (coming soon)
8645 Boulevard Thibeau
Vaudreuil, QC (coming soon)
249 Boulevard Harwood
Saskatchewan
Wynyard, SK (coming soon)
571 South Service Road
Yorkton, SK (coming soon)
277 Broadway St E