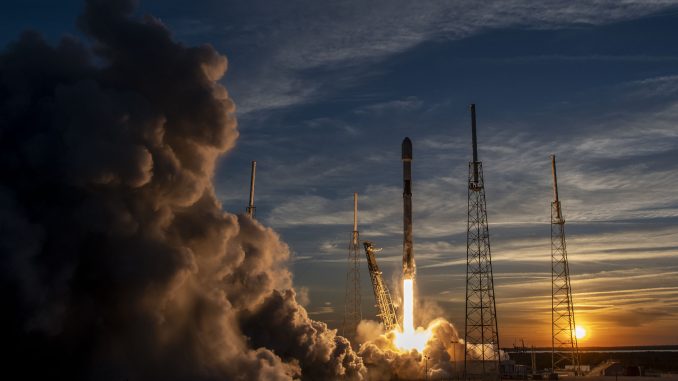 SpaceX completed its latest Starlink launch from Cape Canaveral Space Force Station yesterday evening. For the first time the launch included 21 next-generation Starlink internet satellites, which the aerospace company calls the V2 mini.
Liftoff! pic.twitter.com/OSWplR75Dg

— SpaceX (@SpaceX) February 27, 2023
A SpaceX spokesperson said this in a statement about the next-generation satellites:
The V2 satellites launched on Falcon 9 are a bit smaller, so we affectionately refer to them as 'V2 Mini' satellites. But don't let the name fool you, a V2 Mini satellite has four times the capacity for serving users compared to its earlier counterparts.
In an interesting change to the procedure, this latest SpaceX launch went into a deeper orbit. The deeper orbit will cut down the time for the satellites to reach their final orbital position.
First Starlink v2 satellites reach orbit pic.twitter.com/0l08568mJ9

— Elon Musk (@elonmusk) February 28, 2023
The new satellites are more powerful and have a new and improved argon-powered Hall thruster. Per Space Flight Now, the new propulsion system is 2.3 times the thrust of the first-generation satellites.
This launch did provide SpaceX with two other major milestones. The company has now surpassed 4,000 Starlink satellites launched, and has now successfully completed 100 consecutive booster landings, with the centennial landing happening on the drone ship 'A Shortfall of Gravitas.'
Falcon 9's first stage has landed on the A Shortfall of Gravitas droneship pic.twitter.com/CFdhCVuOby

— SpaceX (@SpaceX) February 27, 2023
The next Starlink launch, Starlink 2-7, could happen today at Vandenberg Space Force Base in California. However, the launch could be delayed for the Crew-6 astronaut mission waiting to launch from Kennedy Space Center in Florida.
If everything did work out properly, SpaceX would have launched three Falcon 9 rockets from three different locations yesterday. However, due to weather for Starlink 2-7 and an issue with the Crew-6 ignition system, only Starlink 6-1 launched.