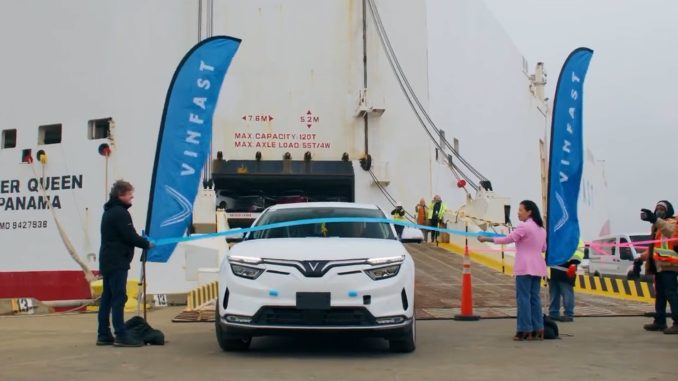 VinFast looks like they will be able to reach their goal of delivering their first electric vehicles in North America in 2022. The Vietnamese automaker has announced it is now approved to deliver their VF8 electric SUV in the US as the first batch of cars arrived in the US this week.
However, VF8 owners will be in for a bit of a shock as the EPA range rating came in significantly lower than expected.
VinFast originally listed the VF8 as having a targeted range of "up to 292 miles (470km)." As with any range estimate, that came with an asterisks and in the fine print it was explained that the estimate was from a pre-production vehicle, based on the WLTP schedule (much more generous than the EPA schedule), and the official rating "may differ slightly."
That advertised range still appears on the VinFast website as you can see above, despite it now having an official range rating of just 179 miles (288km), a full 100 miles (161km) off their target.
VinFast tried to appease future owners by saying "this range is several times better than the average daily range of a typical driver in California," but made no mention of future owners in Canada (or anywhere else it gets cold) who can expect that range to drop to probably 175km to 185km in winter.
While they did miss (significantly) on their range target, VinFast says they will meet another and will deliver the first VF8 SUVs to customers before the end of the year.
The automaker has now received all of the necessary certifications, including the Certificate of Conformity (COC) from the Environmental Protection Agency (EPA) to import and sell its vehicles in the US. They have also received an Executive Order from the California Air Resources Board (CARB) to deliver vehicles to customers in the Golden State, where the first deliveries will take place.
The approvals come just as the first batch of 999 VF8 SUVs arrived in California at the Port of Benicia on Tuesday. The Silver Queen cargo ship left Vietnam late last month.
They're here! We've reached an incredible landmark for VinFast and our US customers: the first batch of #VF8s have arrived in San Francisco.#JoinTheCharge #BoundlessTogether pic.twitter.com/njRdBUzcsr

— VinFast US (@VinFastUS) December 19, 2022