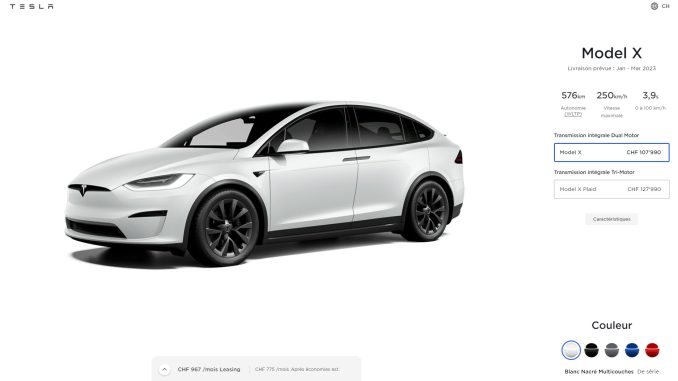 Tesla has reopened orders for the Long Range (LR) variants of the Model S and Model X in Europe. Until now only the Plaid variants of both of the flagship vehicles were available to order in the region.
According to an update to the Design Studio on Friday, prices between countries can vary quite a bit. In Germany the Model S LR starts at €112,990 (~$161,600 CAD) while the Model X Long Range starts at €120,990 (~$173,000 CAD). Meanwhile in Switzerland each vehicle costs CHF100,990 (~$146,200 CAD) and CHF107,990 (~$156,400 CAD) respectively, some $15,000 to almost $20,000 cheaper. (h/t: Eric Bellot)
As with the change in North America last night, customers in Europe can also select between the yoke steering wheel or the new traditional round steering wheel at no extra cost.
A customer ordering today won't have to wait long to receive their new vehicle. The online configurator shows an estimated delivery window of between January and March, which is a welcomed change after there were no deliveries of the Model S and Model X for approximately two years in Europe.
Europe isn't the only region where Tesla opened up orders for the Model S and Model X on Friday. In China Tesla announced pricing for both variants of the vehicles, and they came in a lot cheaper than many were expecting. Deliveries in China don't have a definitive date but are expected to begin in Q2 2023 according to the Design Studio.
Tesla still only builds the Model S and Model X at their Fremont factory in California, and based on their 2022 production and delivery figures the Model S and Model X are still somewhat of a niche product. In 2022 the factory produced 71,177 Model S/X and delivered 66,705 of them, about 5% of Tesla's total production and deliveries.
Tesla sets new records with 405,000 vehicles delivered in Q4 and 1,313,000 in 2022