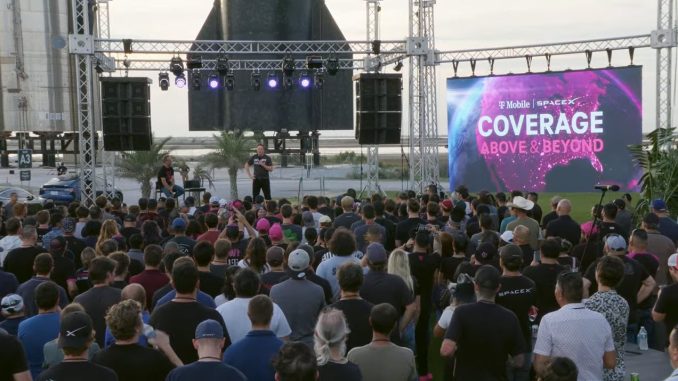 SpaceX and T-Mobile announced a partnership last year to launch 'Coverage Above & Beyond,' which seeks to bring Starlink enabled cell service to eliminate cell phone coverage dead zones across the US. Now the two companies look to be preparing to begin testing the service later this year.
During the Satellite Conference and Exhibition 2023 in Washington, D.C. on Monday, SpaceX VP of Starlink enterprise sales Jonathan Hofeller said they plan to "start getting into testing" the Starlink enabled cell service this year. "We're going to learn a lot by doing — not necessarily by overanalyzing — and getting out there, working with the telcos," without mentioning T-Mobile or any other telecommunications company by name. (via CNBC)
Hofeller didn't provide a specific timeline for when testing will begin, and that's likely because the service will rely on the Starlink V2 satellites to enable the connection with mobile devices. Those satellites were originally only supposed to be carried to orbit onboard Starship, but with that program seeing lengthy delays SpaceX shifted gears and launched the first batch of V2 satellites on a Falcon 9 rocket earlier this year.
When SpaceX and T-Mobile first announced their partnership last year the two companies planned to launch the service in the US by the end of 2023.
According to Hofeller SpaceX is currently manufacturing six V2 satellites per day, and no longer building the previous v1.5 Starlink satellites. The aerospace company is also manufacturing "thousands" of Starlink terminals every day, for which there are now "well over a million" subscribers, he added.